News & Notices
Auction, Garage Sale Set Records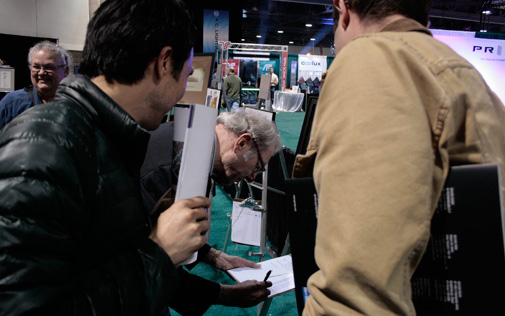 Institute members helped make this year's Art Auction the biggest USITT has ever thrown. This year's auction marked the eighth Art Auction and Garage Sale, and over 50 pieces of artwork and collectable books were donated for the silent auction.
Several key donations included materials from Jo Mielziner's original Broadway design of Death of a Salesman; prints that had been presented to Jules Fisher by Edward Kook; memorabilia from the collections and estates of Herb Schmoll, Donald Shulman, John Nathan, and Willard Bellman; and a host of wonderful renderings and other artwork donated by a variety of leading artists in the USITT community.
Additionally, a huge collection of posters, plans and draftings, books, and other theatre nostalgia like antique lamps, swatch books, and belaying pins were donated to the garage sale. This year, certain auction and garage sale items were available to just students giving them a chance to add collectables like Jean Rosenthal's Magic of Light and Joel E. Rubin's/Lee Watson's Theatrical Lighting Practice to their collections.
This year's auction set a record of $13, 051 in donations that will go towards increasing the principle investment of the Kook Fund. This fund is used as a primary source of funding for sponsoring the annual grant and fellowship awards that the Grant & Fellowships Committee recommends each year.
This year's grant recipients are Renee Berthelette, Tailoring for the Visual Learner –The Jacket and Trousers, $6,000; Laura Crow, Creating a Virtual Museum for the University of Connecticut Historical Collection, $5,000; and Paul Brunner, Sustainable Design and Production for Theatre, $4,000.
Randy Earl, Tim Kelly, Elizabeth Lewandowski, and Ron Naversen were the core group of volunteers who helped coordinate the auction and garage sale during the Annual Conference
For more information about making donations to the next auction or garage sale, e-mail rdunham@uga.edu.