News From
Regional Sections
Rocky Mountain: Electing Officers
The Rocky Mountain Regional Section is in the midst of elections for the officer positions of Chair, Secretary, Treasurer, and Vice-Chair of Publications. By now all USITT members living in Wyoming and Colorado should have received a ballot. Members may vote online or in person at the upcoming regional meeting on June 4. Visit rmusitt.org for candidate bios and information on how to obtain a ballot.
Heart of America: Elections Held in Long Beach
New officers were elected at the Heart of America Regional Section meeting during Conference in Long Beach 2012 Conference & Stage Expo. Officers include: Ronnie Chamberlai, Treasurer; Darren Levin, Vice-Chair for Membership; Sean Savoie, Vice-Chair for Scholarships; Dan Ayers, Vice-Chair for Sponsorships; and Hans Pregler, Vice-Chair for Web Resources. Initial plans were made for a Fall Event September 7 to 9. Members should use the suggestion box on the HOA website to propose locations or activities, or to volunteer.
Midwest: Scene Painting Explored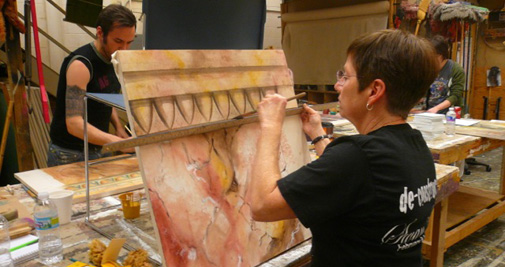 Ten scenic painting students and teachers converged upon the College of DuPage McAninch Arts Center Scene Shop on April 21 and 22 for an intensive scene painting workshop.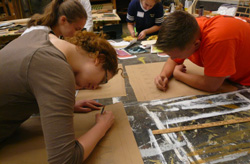 Participants from all four states of the Midwest Regional Section improved their scene painting skills with instruction from Michael Franklin-White. Mr. White, a member of the USA and USITT, demonstrated and guided painters through numerous techniques including cartooning, perking and pouncing, marbling and wood graining, and other faux techniques. Using a variety of paint materials, Mr. White taught not only which paint products were most effective for which techniques, but how some products worked more effectively in combination with others.
A huge thank you goes out to Chicago Spotlight, Inc., USITT national Sustaining Member and Midwest Corporate Member, and the Midwest Regional Section who jointly provided financial support. In addition, Rosco Laboratories, Inc. provided Off Broadway, Super Saturated, and Premiere products for participants to use in the workshop. The Section also extends its appreciation to The Theatre School at DePaul University for building the flats used, and the staff of the McAninch Arts Center at the College of DuPage, Glen Ellyn, Illinois for providing the shop space for the workshop.