News & Notices
USITT to Honor Next Generation of Designers, Technicians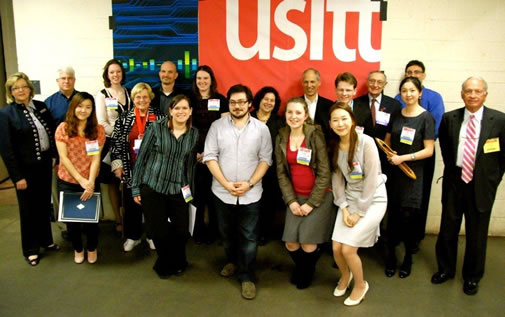 Know of a newcomer to the theatre technology field who shows outstanding skill, accomplishment, or potential? USITT wants to share their renown with the world. The Institute is accepting applications for the Young Designers & Technicians in the Performing Arts Awards as well as the Rising Star Award.
Young Designer & Technicians Awards
Young, talented members of the performing arts industry are eligible for the annual Young Designers & Technicians in the Performing Arts Awards. The Institute is pleased that sponsors for this program continue to support and encourage new talent in the performing arts of the future.
YD&T recognizes young talent at the beginning of their careers in 9 areas. Each submission requires an entry fee and specific materials which may include photographs, appropriate paperwork, drawings, and renderings. All nominees and nominators must be current USITT members. Interested applicants are encouraged to click here for more information.
Join USITT now in order to ensure eligibility for submission. All registrations must be received by midnight. EST October 17. The deadline for submissions is November 15. Awards will be presented March 28 during the opening night festivities at the USITT 2012 Annual Conference & Stage Expo in Long Beach, California.
Rising Star Award
Nominations will open September 1 and be accepted through November 2 for the 2012 Rising Star Award, sponsored and created by LDI/Live Design. The Rising Star Award recognizes young professionals in the first four years of their careers for artistic excellence in the areas of lighting, sound, scenic, and projection design or the convergence of design disciplines. A recipient must be in the first four years of professional (non-academic) work following the completion of his or her highest degree.
USITT members should nominate young professionals for this award. Nominees will be contacted by USITT and asked to electronically supply a professional resume, two letters of support, an application, and no more than eight representative examples of their work. Complete nomination information, including past winners, is available here.
The 2012 Rising Star Award winner will receive $1,000, a one-year individual membership in USITT, and a complimentary registration for the Long Beach 2012 Annual Conference & Stage Expo.
Contact the USITT Office at 800-938-7488 ext. 101 or info@office.usitt.org for assistance.