News From:
Regional Sections
Heart of America: To Hold Workshops in Kansas City
Heart of America Regional Section is sponsoring workshops at Avila University in Kansas City, Missouri, September 23 and 24.
Friday's Fall Arrest Workshop will be by Mark Damon of Process Marketing Group, a company specializing in safety equipment in the Kansas City area.
On Saturday other workshops will be available including Ed Baker of Wichita State talking about Theatrical Firearm Safety and Entrepreneurship, Michael Downs of Downs Art presenting You don't work in the Theatre, the Theatre works in YOU, and Robbie Jones of University of Nebraska, Omaha giving a model building workshop. Ben Stark of Kansas State University will speak about Load and Angle Calculations for Rigging, and Rick McConnell of XS Lighting will be presenting a ETC DMX Primer and Troubleshooting session developed by David Fox. Michael Downs, Ben Stark and Darren Levin will host a portfolio review for any interested participant.
After Saturday's workshops, Kansas City Rep has a production of August, Osage County, in the Spencer Theatre on the UMKC Campus.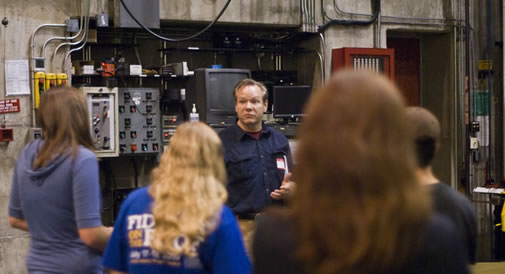 Chesapeake: Slate Expo, Conference in Maryland
The Chesapeake Regional section will holding its annual Stage Expo and Conference 9 a.m. to 6 p.m.on September 24 at Towson University in Towson, Maryland. There will be advanced/professional development classes, intermediate level classes, and beginning 101 classes. The Expo will be filled with vendors and manufactures from the mid-Atlantic region showing the latest in new products and demos of current items, and answering questions about products.
The event will include a Raingutter Regatta to benefit Behind the Scenes. Each boat will be $1 (supplies provided at the Expo). More information is available on the Chesapeake site, www.usittchesapeake.org. Online registration and payment can be handled on the website as well.
Ohio Valley: Fall conference, Ezekiel exhibit, New Website
The deadline for the discounted pre-registration rate for the Ohio Valley Regional Section Fall Conference is Friday, September 16. The conference at Allegheny College on September 24 will be jammed with sessions like Intro to Media Servers, 3D Projections, Bare Bones Guerilla Sound Editing/Playback Software, How to care and feed your Moving Lights, Google Docs for everyone, Blogging as a Collaboration Tool, How to Display Your Work for Entering an Exhibit, and a tour of the new facility at Allegheny College. Details for the hotel discount are also on the website.
Streamlined information about the entering work for the Peggy Ezekiel exhibit are also on the website. There is an on-line registration form this year. Deadline for nominations is September 7.
The website, it has a brand-new look. A big thank you to new webmaster, Aaron Bollinger. Check out the new interactive buttons for Facebook, Twitter, blogging, discussion forums, and photos
Southeast: Athens Setting for Fall Master Classes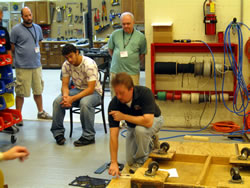 The Southeast Regional Section Master Classes for Fall 2011 are set for October 7 and 8 at the University of Georgia in Athens. One of the themes of this year's classes might be "spectacle" -- using advanced technology as both a tool and element in production design. This year's workshops tentatively include several stellar guest artists, classes featuring UGA media programs and equipment, and sessions with a variety of experts from several leading manufacturers/production services. Featured speakers include lighting designer Jeff Davis as well as Broadway fabric painter Margaret Peot.
A block of hotel rooms are available at several local hotels (within walking distance of all activities and downtown attractions) with special rates ranging from $89 to $109 per night (plus tax). Look for registration materials and additional information in the mail or on the region's website: www.southeast.usitt.org. Questions can be directed to Rich Dunham, head of design University of Georgia (706-542-8273 or rdunham@uga.edu).
Midwest: Cirque du Soleil's OVO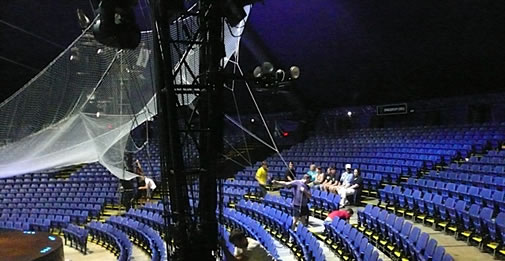 In 2008, while Cirque du Soleil's touring show of Kooza played Chicago, many Midwest Regional Section members attended the backstage tour. When it was announced that the new show, OVO, would be in Chicago, Section members asked if they could repeat the Kooza experience which they did on July 16 with a backstage tour of OVO. In Chicago, Cirque set up the "big top" on the asphalt-covered parking lot of the United Center.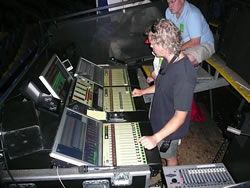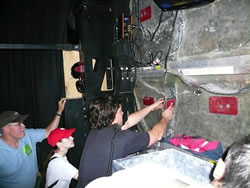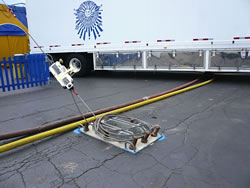 With the exception of the group U2, OVO technicians claim they are the biggest touring show on the road with 63 tractor-trailers. It takes that many to bring everything to create a small working community including a box office, toilets, a huge concession tent, cast/crew dining, rehearsal areas, other support services, and of course, the big top. They are already discussing what changes need to be made to fit the show into approximately 100 cargo containers when it travels to Australia. The only thing they did not have were housing accommodations, though the company puts up in local hotels/apartments. A shuttle is provided to and from housing.
The total technical crew of approximately 25 is comprised of five carpenters, four wardrobe, five or six electricians, two props, seven riggers, and three audio. There is also a site crew responsible for mechanicals, plumbing/welding, AC, tents, bleachers, etc. The "pre-mark" advance team arrived a week before set up to mark the parking lot and drill into the ground the anchoring points for the plates to support the big top, concessions, and associated tents. Local crews are hired to help with the labor of setting up the tents. The tour travels with one "zoom-boom" bobcat, a type of forklift, and rent others in each city. The show takes five days to set up and three to completely take down.
For the tour, 22 Section members and guests divided into four groups. Each group rotated among department areas, which included carpentry/props, lighting, rigging/automation, and audio. Each department head took the group everywhere from backstage training and rehearsal areas to beneath the stage and all "booth" locations. All of the crew heads were very knowledgeable and enthusiastically shared their areas of expertise and their opinions of setting up and running the show. They also discussed the effects of hail and wind on audio; the many challenges of assembling the climbing; wall-like back wall structure; and how the tent masts are used as combined lighting and rigging spaces complete with custom rigging hardware. It is impossible to do more than scratch the surface here in a discussion of all of the great things these people do to support the production.
This backstage tour was a special programming event open only to USITT Midwest Regional Section members and their guests. To learn more about membership in the Midwest Regional Section as well as upcoming programming events in Illinois, Indiana, Michigan and Wisconsin, visit www.USITTmidwest.org.