News From:
Contributing Members
Michigan Technological University: Upgrades Membership
The Institute welcomes Michigan Technological University as a Contributing member, an upgrade from Supporting member!!
Wenger Corporation: To Acquire J.R. Clancy, Inc.
On August 1, the Wenger Corporation, based in Owatonna, Minnesotoa signed an agreement to acquire J.R. Clancy, Inc. based in Syracuse, New York. The Wenger Corporation and J.R. Clancy are long-standing, privately owned businesses with shared values, dedicated and loyal employees, great brands, strong heritages, and great reputations in the marketplace.
Wenger designs and manufactures specialized equipment and solutions for music education, performing arts, and related markets for both domestic and international clientele. It offers products to elementary, secondary, and higher education institutions; performing arts theatres; and other related markets. Wenger generates annual revenues in excess of $100 million.
J.R. Clancy designs, manufactures, and installs theatrical rigging equipment and related hardware for use in theatres, concert halls, arenas, television studios, churches, auditoriums, convention centers, casinos, opera houses, and cruise ships. Major global theater venues with multi-million dollar projects directly contract with Clancy to lead the design and integration of cutting-edge, custom rigging solutions. Clancy generates annual revenues in excess of $30 million.
The intent is to operate these companies as complementary businesses. J.R. Clancy, led by Bob Theis and Mike Murphy, will remain J.R. Clancy. Wenger, led by Bill Beer, will remain Wenger. The headquarters of J.R. Clancy will remain in Syracuse and the headquarters for Wenger will remain in Owatonna.
ETC: Swedish Theatre Saves with ETC Lighting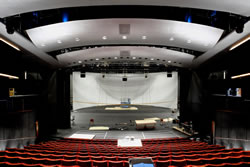 When Gothenburg City Theatre in Sweden received funding from the regional government to spend on energy-saving measures, the first thing the technicians thought of replacing was the energy-hungry cyclorama lighting. With the help of Peter Wikström, project manager at One Two Sales in Gothenburg, the technicians quickly realized that not only would ETC's Selador Vivid-R LED fixtures provide the quality and power of light they needed while saving a huge amount of energy, the theatre would also gain some 15 feet of stage depth.
Gothenburg City Theatre expects to cut expenses substantially with the new lighting – about $510,000 USD over the fixtures' lifetime.
For more information on ETC and its products, visit www.etcconnect.com
PRG: Luminaire Wins 2011 Cine Gear Expo Technical Award
Production Resource Group (PRG) debuted the TruColor Foton luminaire, the next generation of digital lighting, at the Cine Gear Expo in Los Angeles, California in June. The fixture, which uses cold phosphor technology, was awarded the 2011 Cine Gear Expo Technical Award in the Lighting category.
For more information on the TruColor Foton or any of PRG's services for film and television, visit www.prg.com.
Creative Stage Lighting Co., Inc.: Improves Industry Tape
Creative Stage Lighting announced improvements to its brand of tape: Entertainment Industry Tape. Entertainment Industry Tape gaffer tape now has improved adhesion that holds tough and removes clean. EIT gaffer tape now tears more easily by hand and matte finish reduces light reflection.
EIT Gaffer Tape is available in over 10 colors, including fluorescents. More information about EIT, including EIT spike tape, and console tape, is available online at entertainmentindustrytape.com.