News From:
Around the Institute
Barbara Lucas at CUE
Director of Communications Barbara Lucas was able to spend a few days in Madison, Wisconsin for CUE, ETC's Create, Understand, Experience conference in July. The spectacular Monona Terrace, designed by Frank Lloyd Wright but not built until long after his death, provided a delightful background for the creative energy flowing throughout the center.
Participants were introduced to ETC's new Console, Gio, which will have its debut later this year. There were also broad hints and possibly a demo of the anticipated LED Source 4 during ETC CEO Fred Foster's keynote. Later, ETC employees provided entertainment and tours of the factory in Middletown.
David Grindle, Monica Merritt at ATHE
Director of Member Services, Monica L. Merritt and Executive Director David Grindle joined several USITT members in Chicago, August 11-14 for ATHE's 25th Anniversary Conference. USITT participated in the Birthday Bingo Raffle and donated a USITT duffle bag filled with USITT logo items to one lucky winner.
Amelia Vanderbilt Named to Louisville Intern Company
Congratulations to Amelia Vanderbilt, a recent Indiana University graduate, who has been named part of the Actors Theatre of Louisville's 40th Anniversary apprentice/intern company. Forty-five people – 22 acting apprentices and 23 interns – were selected for the competitive nine-month training program. Members of the company will receive experience and practical training in their chosen fields.
Bill Teague Letter, Photo Featured in Calendar
A great introductory letter from Bill Teague, long-time USITT member and former VP, appears in the calendar for the University of Alabama College of Arts and Sciences' Department of Theatre and Dance 2011-12 season.
The calendar, full of dramatic photos, includes one of Bill in the Gallaway Theatre where performaces will be held.
Riders Raise $36,500
The Long Reach Long Riders completed their eighth annual charity ride. The ride, which benefits Broadway Cares/Equity Fights AIDS and The ESTA Foundation's Behind the Scenes program, began in Billings, Montana on July 2 and ended back in Billings on July 9. This year, the LRLR raised over $36,500 bringing the total raised since they started riding in 2004 to just under $300,000.
The top ten things the 14 riders, five passengers and two chase cars did this year were:
Rode 2,114 miles in eight days.
Looked on as two riders asked their passengers to marry them. A first for the LRLR. (Both passengers said yes!)
Did not encounter a single drop of rain. Another LRLR first.
Experienced no bike mechanical failures. Yet another LRLR first.
Saw numerous wildlife including bison, elk, brown black and grizzly bear, deer, a coyote (although some argue that it was wolf), bald and golden eagles, several osprey in their nests, and two unidentified animals that ran in front of, but did not get hit by, Greg's bike.
Changed altitude by over 7,000 feet including a trip over Bear Tooth Pass at 10,947 feet.
Visited three national parks and a national monument.
Crossed umpteen flooded rivers and passed more snow covered mountains than they could count.
Passed out over 1,000 kazoos.
Raised awareness of Broadway Cares/Equity Fights AIDS and The ESTA Foundation's Behind The Scenes program at numerous gas stations, restaurants, hotels, scenic overlooks, and even traffic jams.
The ninth annual Long Reach Long Rider charity ride will take place in the Pacific Northwest and begin on August 4. Check the website for route, registration, and donation information.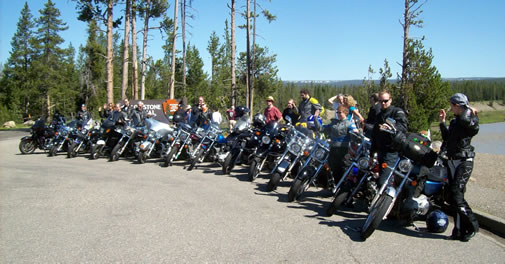 In Sympathy – Robin Klima
USITT extends its sympathy to John Klima of Tools for Stagecraft on the recent death of his wife, Robin Kathleen Klima of Oak Park who passed away peacefully at home on August 3 surrounded by her family. Robin was born in Milwaukee, Wisconsin on December 15, 1947 to Eleanor and Robert Kumferman. For over 25 years, she worked as a Trainer for City National Bank. Robin is survived by her loving husband of 41 years, her daughter Kara (Peter Jurutka), her son John (Jennifer Marder), and her beloved grandson Robbie. Services were August 6.