News & Notices
Proposals Needed for Three Poster Sessions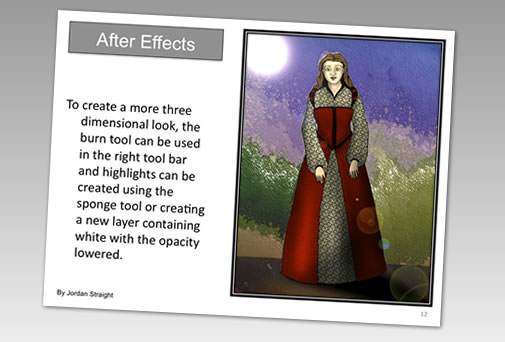 Three different USITT Commissions are offering poster sessions as part of the 2012 Annual Conference & Stage Expo in Long Beach, California.
Technical Production is the newest Commission to offer members this opportunity. Posters are a great way to exchange ideas with peers and to become a more active member of the Institute. Submitting a poster is a great way to show off work, connect with others who share interests and for some faculty to meet tenure requirements for scholarly publication. Posters are reviewed by a jury within the Commission, and those accepted will be notified by the committee chair.
Have a clever classroom project to share? Found a way to help make academic life easier? Then submit ideas to the Education Commission who will again host a Poster session. Students are also encouraged to submit poster ideas related to class projects or student life.
During the Costume Poster Session, costume designers and technicians share information that is probably not well known or perhaps of their own invention. This includes, but is not limited to, a new solution to an old problem, a new problem and its solution, a classroom or management technique, the results of research, or other ideas, discoveries, or developments in the field of costuming.
Ideas need to be presented in the form of an abstract – a brief, concise summary of the information to be presented in the poster, no more than 200 words typewritten. Examples of past successful abstracts can be found here. To submit a proposal, title it with your member number, and include which Commission should consider it. As part of the submittal, include a biography that is 50 words or less and title it with member number only. Submissions should be sent in an editable format (Word files are ideal) to info@office.usitt.org.
The jurors will not see the names of the submitter, or the biography. The biographies will be used for the Conference program. Education Commission poster proposals are due by November 14, Costume Poster proposals are due by November 15, and Tech Production proposals are due by December 15. All submissions will be blind juried by the each Commission's Selection Committee.
The completed poster and any handouts do not need to be ready until February or later, so submit a proposal now. Many proposals have grown from the poster session to things like articles in TD&T, conference sessions, or working relationships between members sparking years of ideas.
For questions about proposals for the Education Commission, contact David Navalinsky at dnavalinsky@gmail.com. For questions or additional information about proposals for the Costume Design & Technology Commission, contact M.C. Friedrich, Department of Visual and Performing Arts, Michigan Technological University, mcfriedr@mtu.edu. For questions about possible posters for the Technical Production Commission, contact Mary Black at maryblack223@gmail.com or 319-610-4133.