News From:
Sustaining Members
Alcons Audio USA: Signs Up with Stage Expo Contract
USITT welcomes Alcons Audio USA as a Sustaining member. Alcons signed up with a Stage Expo contract. The company, one of Europe's leading developers and manufacturers of professional sound systems, was recently introduced into the United States. It develops professional sound systems for quality-conscious clients in the cinema, installation, and touring/rental industries.
Northern Sound & Light, Inc.: of McKees Rocks, Pennsylvania
Northern Sound & Light, Inc is a new Sustaining member. The Institute is happy to greet the factory authorized dealer which specializes in the sale and support of professional audio, stage lighting, and theatrical supplies to customers throughout the United States.

Camburn Associates: Appreciate Increase in Membership Level
We appreciate the increased level of support from Camburn Associates which is now a Sustaining member of USITT. Herb Camburn, well-known set and costume designer, is president, and the company is based right in Long Beach, where USITT will hold its major 2012 event. Look for Camburn Associates' property resource CDs for sale at Stage Expo in March.
BMI Supply: Two Join Supply Company
Donna Cleveland and Bob Medve are now working at BMI Supply of Queensbury, New York.
Ms Cleveland has joined the sales team in the new position of sales coordinator. She will manage various processes to support BMI's longstanding tradition of ultimate customer service.
Mr. Medve has rejoined BMI Supply as manager of the installation department. With a broad background in educational theatre and systems integration, he brings a wealth of experience to the table.
BMI Supply is a comprehensive theatrical supply and installation company with nearly 25 years of service to the entertainment industry. For more information, visit www.bmisupply.com
Staging Concepts: Works to Complete Bridge Memorial Project
Staging Concepts has helped complete the Remembrance Garden, a memorial located across from Gold Medal Park, which was dedicated August 1 to mark the four-year anniversary of the I-35W bridge collapse in Minneapolis, Minnesota.
The monument features 13 black steel pillars, each 10.5 feet tall, with glass panel fronts each etched with the name of a person who died when the bridge fell into the Mississippi River in 2007. The panels will be illuminated by blue LED lighting at night. The pillars, lighting, and glass were manufactured by Staging Concepts. Additional features include a stone water wall inscribed with the names of everyone who was on the bridge but survived, and a path leading from the wall to an observation deck on the bluff overlooking the river and the new I-35W bridge.
TMB: Equipment Adds Functionality
Hippotizer HD Media Servers now include built-in DVI Parrot functionality. The addition of DVI Parrot to the Hippotizer HD combines two popular products from TMB into a single package. Previously only available as an external stand-alone device, the DVI Parrot by Carallon allows user-configurable EDID (Extended Display Identification Data) management.
With the advent of Hippotizer v3.1 software (currently in BETA release), the HippoPortamus now features unlocked output resolution, giving the user extended HD output in a laptop. Extended HD resolution also allows use of selected hardware splitters with multiple HD images from one output.
TMB is exclusive distributor for Hippotizer in the Americas, and exclusive distributor worldwide for DVI Parrot. For more information visit TMB's online product pages: www.tmb.com and www.tmb.com/products/parrot. Learn more about TMB's wide range of innovative products at www.tmb.com.
Stagecraft Institute of Las Vegas: Students Exposed to Video Technology, Work on Design Charette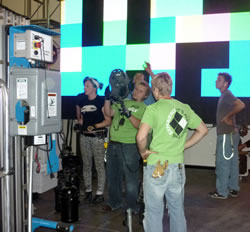 Stagecraft Institute of Las Vegas participants saw the newest of new stage technology during Video Projection Week. This cutting edge technology has been integrated into the world of theatre, and students met with the top instructors to explore them. The week was led by the renowned lighting designer Brian Gale (NYX design) and included LED wall specialists Matt Ellar and Guy Benjamin of Pete's TVs; Trevor Burke (Eos programmer); Mike Hall (GrandMA programmer); and Loren Barton (Hippo Trainer).
Using Fallujah, students were divided into three design teams directed by Jane Childs, Jon Farris, and Linda Leonard to work on a design charette. Assisting in the design process were Eric Mongerson, Don Childs, John Forbes, and Cindi Turnbull.
Auerbach Pollock Friedlander: Markle Appointed Chief Administrative Officer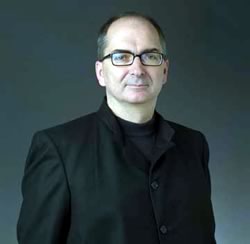 Patrick Markle has been appointed chief administrative officer of Auerbach Pollock Friedlander and Auerbach Glasow French. He will lead all administrative operations for the firm as well as participate in strategic planning, marketing, and public relations.
A graduate of both the Yale School of Drama and the Ringling Bros and Barnum Bailey Clown College, Mr. Markle has led production and technical operations at three of the most renowned opera companies in the world: The Metropolitan Opera, where he supervised the engineering and construction of stage scenery for all new productions; the Santa Fe Opera, where he was the production director and project manager during construction of its new opera house; and the San Francisco Opera, where he managed all divisions of the production department. He co-founded Figaro Systems Inc., the global leader of multi-lingual text captioning displays for the performing arts. Most recently, he was managing director for Teatro ZinZanni, a San Francisco arts institution focusing on preserving and presenting the highest quality of European-style circus, theatre and cabaret. He was responsible for all budget and business management, administrative oversight of sales and marketing, and oversight of external affairs and community relations.