News & Notices
In Memoriam: George Thomas Howard
Fellow USITT, 1929-2011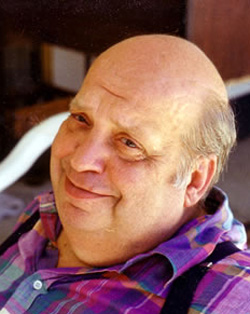 Prepared by Joel E. Rubin with contributions from Louis Bradfield, Ken Vannice, Josephine Marquez, Leonard Auerbach, R. Duncan MacKenzie, and Christopher Howard.
George Thomas Howard, Fellow of USITT, died in early July at age 81.
He headed George Thomas Howard Associates, a leading consultant for theatrical and presentation facilities for over two decades with special expertise in Las Vegas-type showroom design. The firm's work included the showrooms at the Las Vegas Hilton, the Stardust, the Desert Inn, and the Bonanza. The firm was lighting consultant for the Elizabethan and Bowmer theatres at the Oregon Shakespeare Festival, theatre consultant for the World Trade Center in Moscow, Seattle Opera House renovation, and Grand Ole Opry.
Mr. Howard received his BA in physics from Reed College in 1951 also undertaking duties as scene shop instructor; subsequent degrees include bachelor's and master's degree in electrical engineering from MIT. After graduation, he joined the large lamp division of General Electric Company at Nela Park in Cleveland, Ohio where he worked for five years principally in stage/studio lamps, a grand introduction to theatre, motion picture. and television production.
In addition to his membership in USITT, Mr. Howard was a member of IEEE, NFPA, SMPTE, IES, ASTC (founding member) and IATSE with honorary memberships in Tau Beta Pi and Eta Kappa Nu. He represented USITT on NFPA Electrical Code Panel 15, and was an active delegate to OISTAT International Conferences.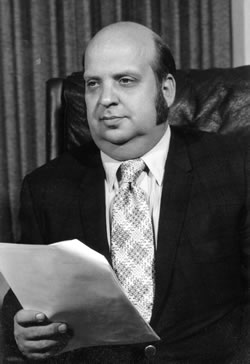 Mr. Howard is survived by his wife Karen, daughter Tamara, son Christopher, and daughter-in-law Meri Howard (married to his eldest son Dana who predeceased Mr. Howard) and his grandchildren, Matthew, Tabitha, Charlie, and Alexandria.
A small memorial service was planned for August 21 in Las Vegas. The family asks that memorial gifts be given to Reed College in Mr. Howard's name.
Louis Bradfield (Fellow USITT) believes that George's most notable accomplishment was the design of the Ziegfeld Theatre for the production Hallelujah Hollywood at the original 1973 Las Vegas MGM Grand Hotel. Louis notes that there was a wide range of hydraulic and mechanical systems including double deck bridges, wagons, turntables, a band cart, a Plexiglas water tank 30' x 9' x 10' for the "dolphin and girl" water ballet, a proscenium-wide living curtain which could hold cast members, front-of-house descending podiums for the showgirls, a retracting cantilevered passarelle at the front of the stage, and an ice wagon. The integration of all of the stage mechanics into the room set the standard for the design of Las Vegas showrooms for years. Following the disastrous fire in 1980, the firm designed the new showroom for the rebuilt MGM Grand (now Bally's) including all of the technical systems. "In my opinion, George was a great theatre consultant and engineer," Mr. Bradfield said.
Mr. Howard delivered the 1995 USITT Fellows Address, and his presentation was printed in TD&T that summer. In that address, he supplied the rationale for the design of Vegas-style showrooms. He credits the design and mechanical systems of historic theatres and opera houses. "From Bayreuth to Las Vegas: The Common Heritage of High Art and Popular Culture" is a hugely interesting article.
Mr. Howard was unique as a theatre consultant because he was also a registered professional engineer in 17 states. He was quite expert at helping professionals from other disciplines understand how their designs would affect the theatrical workability of a project. Sometimes it was to the annoyance of other designers because he was well-versed and sometimes better informed than those practicing in other disciplines. Mr. Howard was completely hands-on in the firm's projects.
For some six years, 1965 to 1970, George and I (Joel Rubin) were colleagues at Kliegl Bros. Lighting. George was general manager of what was named Kliegl Bros. Western Corp. where he worked closely with USITT Fellow Ken Vannice. It was during this time that I learned to appreciate some of George's outstanding traits. He was for example, one of the single best "red-liners" (corrections) of working drawings that I have ever met. He coupled this with a unique ability to read print upside down and backward and to "red-line" that way from his side of the table. This ability was also usefully employed in reading notes from across the table while negotiating contracts.
Josephine Marquez, now of ETC, formerly of Kliegl, noted another extraordinary "George'ism"; she said, "What I remember most about George was his marvelous memory. He knew the OAG (Airline Guide) by heart. He knew airlines, times, connections, etc. on flights from all over the world. It was an outstanding feat of memory."
Another great trait was that Mr. Howard was never able nor wanted to file a single piece of paper, either keeping its content photographically in his head or knowing just where in the deep piles of paper in his offices any particular document could be found. When he started his own consulting practice, Mr. Howard would assign a room in his suite of offices to a particular project, and all the documents for that project were in what appeared to outsiders as complete happenstance – piled on tables, on floor, on drawing racks.
Mr. Howard was constantly searching for adjoining office spaces as his project load expanded. The late Dick Thompson (a USITT Founder and Fellow) was hired by Mr. Howard as an associate. Mr. Thompson was a complete opposite in terms of organization; everything was to be neatly filed. So, as the story goes, Mr. Thompson arrived on the premises and immediately ordered 40 four-drawer file cabinets as a starter order; but before they could be delivered he was summarily terminated.
I don't recall George ever taking a vacation as such, but he was fond of large ships and liked nothing more than getting a likely vendor to accompany him on the QEII. During the trans-Atlantic voyage, George took delight in red-lining the firm's drawing submittal in front of the captive, hapless victim.
"When the USITT Center of OISTAT hosted foreign visitors, I was always pleased to send them through Las Vegas because George was always willing to provide them with grand tours through Vegas backstage."
Len Auerbach added, "George was a Founding Member of the American Society of Theatre Consultants. He continued to impart his knowledge to his consulting colleagues where his engineering background proved essential to the breadth of the profession. Never afraid to push the envelope, he held the expertise and confidence to support every direction he wanted to pursue."
Ken Vannice (USITT Fellow, now with Leviton) remembered that in his senior year at Montana State, he began looking for his next step on his life's path. Herb Kliegl suggested that Mr. Howard was looking for more people at Kliegl Bros. Western Corp. in L.A.
"I contacted George, who invited me to meet him at the Northwest Drama Conference in Seattle. He picked me up and took me to dinner at, where else, the Washington Athletic Club. I think George belonged to every athletic club in existence. He offered me a job in L.A., and I accepted it. On my first day of work, I drove the full length of Melrose Ave several times but could not find Kliegl Bros. Western Corp., so I called. It was in an old, well-worn store front with the blinds drawn and no sign. I now know why he wanted to meet me in Seattle. If I had seen the office, I may have not wanted to work there. In this environment, I learned from George more about the profession of engineering than in five years of schooling, or from a MFA from Yale which I traded to work there."
Mr. Howard had a thing about flying. He flew constantly. He always had a pocket full of half used tickets and a phenomenal memory for flight schedules. "His memory was astounding," Mr. Vannice continued. "I remember being with him flying out of Las Vegas. We got to the airport just after the plane had pulled away from the gate. George got them to hold the plane on the taxiway while we crawled through the baggage door and rode out on the baggage cart to the plane.
For the first few years at Kliegl, George's family still lived in the Northwest. On many occasions after working late George would take Cliff Nelson (another employee) and Mr. Vannice to dinner at the L.A. Athletic Club. "We had the opportunity to eat well and learn more about the business of stage lighting. George didn't just tell you something; he had a way of including you in the discovery of it," Mr. Vannice said.
Later on, Mr. Howard left Kliegl and became a consultant. "In this relationship, I began to joust with him using what I had learned,"Mr. Vannice noted. "He usually won. He continued to push the envelope with regard to stage equipment and again was usually correct. But there was this one time… George, you are out of you mind if you think anyone will be able to plug in a combination pin connector with two 100A, six 50A, and twenty 20A sets of pins!"
Duncan MacKenzie remembers the compliment George paid him "by making me a Principal of the firm. I did my best to not make him regret his decision, never once did George either privately or publicly call into question a decision I made. I could not have asked for a better friend. George had a very large part in my development and maturation in this industry, and were it not for George and Karen (Mrs. Howard) hiring her as the receptionist I would never have met my wife, Gloria."
Christopher Howard, an attorney, practicing in Seattle, said, "My father was driven by his work. His life centered on work, food, and travel, probably in that order. "As children, we were often lucky to get to go along to inspect a construction site in Las Vegas or to attend openings, such as at Opry. We were particularly lucky to spend several summers in Ashland while he volunteered at the Shakespeare festival there. It became clear even to a fairly young child that my father had a passion for building and designing theaters, and that, wherever he went, he commanded respect."
Mr. Howard's focus on the theater started very young, working as a stage hand in Portland. He detoured from working in the theater a few times but always intended to return, which he did with Kliegl and then George T. Howard Associates. Some of the other companies he started along the way are still going strong – notably Hollywood Lighting which he founded with Don Cameron. "Until he started GTHA he tended to get restless and to move every five years. This gave us a broader exposure to the West Coast as we grew up," Christopher Howard added.
For the last few years Mr. Howard devoted his time to caring for his wife Karen, and to collecting coins. He put some effort into writing a practical and historical dictionary of theater terms, but he did not finish this project when he realized that technology might make such a book obsolete. He kept mentally active through this year. Unfortunately, he contracted a MRSA infection from which he was not able to recover. Up through this year his passions remained with the theatre and food; travel he continued to enjoy vicariously through his family.
"He taught us all about how to do a good job and how to earn respect. He also taught us how to travel well and how to get upgraded on flights; he was a million miler before the frequent flier programs," Christopher Howard remembered. "Our parents both shared their love of education and culture with their children as they raised us. They supported us in whatever direction we wanted to go, as long it was understood we would go to college. He left us with a great legacy in that regard, much as he has left the world with many great theaters by which we may remember him and his work. He is missed."