News From Joe Aldridge, USITT President
Celebrating August Achievements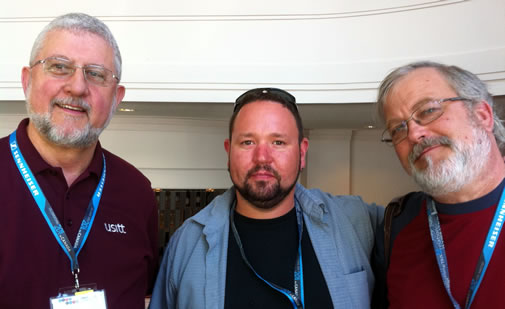 Wow! Another summer has come and gone! Record heat all over the country and a severe lack of rain has made this an interesting summer, to say the least! A very productive time for most of us if you remember that productivity can be measured in many ways. Working on one's tan or checking one's eyelids for leaks are both very productive endeavors.
I want to clarify something for some of my friends. I did not wear that color shirt (accompanying my article in the last Sightlines edition) to honor any specific university – not Syracuse, not the University of Tennessee, not even the University of Texas (I am, after all, a proud graduate of Texas Tech. I know, I know, why would anyone wear a shirt with TT on it? Heard it before.) The photo was a result of what was clean at the time I packed my bags to travel to the National Office. Had I known that there would be an opportunity for a photo, I would have more carefully chosen my wardrobe. Basic black is always in fashion.
As we head into August, I have a couple of exciting adventures ahead. I am going to attend my first CITT Rendez-vous in Victoria, British Columbia. the second week of the month. I look forward to representing USITT at its sister organization's yearly gathering. They have some really interesting events planned. They are offering the opportunity to take a backstage tour of one of the Princess Cruise ships that will be docked at the time of the conference. I hope to be able to convince more of our friends in Canada to make the trek down to Long Beach in March and join us. I expect to encounter some of our members there as well.
Toward the end of the month, I will chair the next web-based Board of Directors meeting from Syracuse. We will be hosting an elected officers' retreat in conjunction with the Board meeting. It will give us an opportunity to meet with and integrate our new officers into the operation of the Institute. We are planning to enjoy a meal at Dinosaur Barbeque, one of my favorite dining establishments in Syracuse. Okay, it is a biker bar that serves some incredible barbeque with the ambiance to match. I have also planned to take the officers to experience a lava pour at the Syracuse University foundry, run by a friend of mine who is the director of their sculpture program. I suspect that a hot time will be had by all!
September will find me crossing the pond to attend the PLASA Conference in London. I will be joining David Grindle, Barbara Lucas, and Monica Merritt in representing USITT at this particular conference. Since many of our corporate members will also attend, I think that this will be a good opportunity to continue to promote USITT, its members, and our activities.
I have heard some incredible reports about the PQ and the USITT/USA exhibit. I believe that we had a record number of members make the trek to enjoy the sights and sounds of PQ. None was disappointed. My congratulations to Sandy Bonds, Marketa Fantova, Dan Denhart, Michael Monsos, and many others who worked so hard in putting the exhibit together. Don't worry; if you were one of the unfortunate who could not afford to travel to Prague, the exhibit will be restaged for your benefit in Long Beach. I look forward to witnessing the exhibit in person.
Last, but by no means least, USITT celebrates a significant milestone. It was in August 1986 that USITT DMX512 – Digital Data Transmission Standard for Dimmers and Controllers was first published. It is now also known as ANSI E1.11 –Entertainment Technology – USITT DMX512-A – Asynchronous Serial Digital Data Transmission Standard for Controlling Lighting Equipment and Accessories. This marks the 25th anniversary/birthday of its creation. I offer congratulations and heartfelt thanks to Mitch Hefter, a USITT Fellow and long time member, who is responsible for shepherding this project and for continuing to chair the PLASA/USITT Task Group which oversees the maintenance of the standard. It continues to be the primary protocol used in the entertainment industry.