News From:
Sustaining Members
TMB Shows New Technology at PLASA 2010
As it has since 1983, TMB offered new and innovative products that shape the industry at PLASA 2010. Many new, favorite, and exclusive products were displayed.
In addition, TMB displayed Core Lighting portable battery-powered LED uplighters; ProFan professional fans; DMX Data Lynx 4-universe DMX intelligent switch; ProPlex Ethernet and Fibre cables; and ProAqua submersible cables. Find out more about products and services offered by TMB at www.tmb.com.
Split Pulley Reels in Another Award
At the recent ABTT Theatre Show awards, the newest innovation from the Stage Technologies' mechanical design team took the prize for Best Engineering Product 2010. The split pulley is a simple mechanism that makes performer flying, specifically at an angle out over the audience, easier and more neatly than ever before.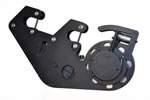 Steel wire rope is fed into the pulley as normal, but the secret is in the carefully-engineered pulley sheave. The sheave is spilt in two and an electrical signal causes the two halves to move apart on demand, enabling the rope to drop through.
For more information about the Stage Technologies range of mechanical, control, and software products, visit www.stagetech.com.
Philips To Discontinue Luminaire Product Line
Philips Lighting Controls/Entertainment Technology announced the discontinuation of the Vari-Lite VL550 80V Wash luminaire product line, but will continue to offer the VL550, VL550D, and the VL550CD Wash luminaires. Spurred by a dedicated effort to offer the best in energy-efficient lighting and due to the success of the VLX Wash luminaire, Philips Vari-Lite has made the decision to focus on these technologies which have surpassed the benefits provided by the VL550 80V lamp.
Although production of the VL550 80V has been discontinued, technical and service support will continue. To find out more, contact your Philips Vari-Lite regional sales manager or authorized dealer. Contact information for both may be found at www.vari-lite.com.
Summer Session Ends
The summer session for Stagecraft Institute of Las Vegas (SILV) ended recently with Tech Management as the last class of the summer. Among the topics covered were communication skills in the workplace, stage management, people management, and working in a large shop. Activities included a Q&A and backstage tour at the Lion King theatre in the Mandalay Bay Hotel and Casino, a tour of a local PBS television station, mock job interviews, and a job fair.
TOMCAT USA, Inc. Expands Product Opportunities
TOMCAT USA, Inc. is now an authorized dealer for Motion Laboratories. Since the mid 1980s, Motion Laboratories has been an industry leader in developing and manufacturing high quality power distribution and hoist control systems.
The authorized dealer designation means TOMCAT will stock Motion Lab products at its Midland, Texas headquarters and is a significant move forward in improving response times to its customers. The TOMCAT sales team completed extensive training on Motion Lab products and service assistance.
TOMCAT also announced an expanded partnership with 4Wall Entertainment as an official TOMCAT master stocking distributor. 4Wall Entertainment is a full-service lighting company with locations nationwide that specializes in providing entertainment lighting systems.
For more information, visit www.tomcatglobal.com.
Companies Announce Merger
Prolyte Products Group, based in the Netherlands, and United Kingdom-based Litestructures, two of the strongest names in the trussing and staging industry, recently announced they will merge. Both companies represent the cutting edge in professional truss and staging systems, each with its own strengths and specialities. This merger will create a new organization that is stronger and set to become a dominant force in the industry in terms of size, product range, resources and sales force.
The new, merged company will operate under the banner of Prolyte Products Group.
ENTTEC's International Success Spearheads Opening of U.S. Factory

The growth and success of Australian lighting solutions company ENTTEC has led to the opening of its first North American office and factory this summer: ENTTEC Americas, LLC located in Durham, North Carolina. ENTTEC Americas houses the U.S. sales and warehousing operations. Its large showroom displays its variety of innovative lighting control systems for both training and demonstration purposes.
For more information, go to www.enttec.com or contact Jeremy Kumin at jkumin@enttec.com or 888-454-5922 (U.S. voice and fax).