Member Benefits
Offer Discounts on Hotels, Conference Air Fare
Two travel benefits for the membership are now being offered: one is ongoing nationwide and the other will help members get to Charlotte for the Conference.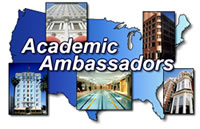 Academic Ambassadors gives USITT members access to some of the finest boutique hotels in the country at discounts of up to 20% (and sometimes more). Go to www.academicambassadors.com and register. List USITT as your organization and member as your title. Once you are registered, you may book through the links on the web page. Great locations such as Hotel Monaco in San Francisco, Washington, and New York, the Inn on the Alameda in Santa Fe, and the Admiral Fell Inn in Baltimore are all available. Check out the possibilities and pamper yourself for the cost of a run of the mill stay.

For those headed to the 51st Annual Conference & Stage Expo, USITT has named United Airlines as the Official Airline of the conference. Members who book their tickets through United's Meetings desk or a travel professional receive between seven and 15 percent off when booked more than 30 days in advance.
For those who book less than 30 days in advance, the discount is five percent. No matter when flights are booked at United.com the discount is five percent.
United just completed the final steps to merge with Continental effective October 1, making them the world's largest airline with many flights to Charlotte each day. The membership has been asking for some type of discount on conference travel so here it is. Call United at 800-521-4041 and use account code MTG10. Anyone using a travel agent can use that same code for the discounts.