News From:
Contributing Members
J.R. Clancy Spotlights Bad Rigging, Named to Inc. Magazine's Inc. 5000 List
Want to see something really scary? Go to J. R. Clancy's Facebook page to see some of the worst examples of rigging nightmares in real photos sent to the company by rigging inspectors and theatre managers.
Each week, Clancy posts a new photo of a rigging accident-waiting-to-happen at www.facebook.com/JRClancy. These photos stand as vivid examples of amateur errors, often involving hardware that was never meant to bear weight.
The stage rigging designer and manufacturer also has joined the ranks of the fastest growing private companies in the United States by qualifying for Inc. Magazine's Inc. 5000 list. Since its inception in 1982, the Inc. 5000 has become one of the most respected indicators of entrepreneurial success among America's privately held companies. J. R. Clancy enters the list at number 3891. The complete list is published in Inc. Magazine's September issue.
Polson Named VP Sales and Marketing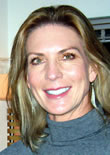 Laurel Polson was named vice president of sales and marketing for GAMPRODUCTS, INC.. Ms. Polson comes to the lighting industry from the corporate music industry where she had an extensive career with Sony Music Entertainment holding executive sales and marketing positions in physical distribution. Ms. Polson will assume responsibility for managing GAM's sales and service team for domestic and international sales. For more information , contact GAMPRODUCTS, INC., 4975 West Pico Blvd., Los Angeles, California 90019, phone 323-935-4975.
LaPell To Work with Dealers, Clients

Jeff LaPell was recently hired for the position of Northeast business development manager and Darrell Barnes as central business development manager by Creative Stage Lighting Co, Inc.
They will be responsible for working directly with CSL dealers and clients. They bring over 20 years of sales and industry experience to Creative Stage Lighting.
Mr. Lapell was most recently with Lincoln Logs where he was executive vice president. At Creative Stage Lighting, he will work directly with CSL Dealers in the Northeast United States. Mr. Barnes's over 20 years of experience is most notably from Martin Professional as the Central Regional sales manager. Prior to that, he worked as a technician, programmer, designer, and salesman and was involved with live productions, lighting design, and system integration.
Firm Hires, Promotes Within Sales Force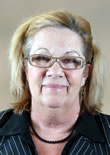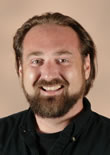 Industry veteran Terri O'Toole has joined the staff at Vincent Lighting Systems (VLS). She will head up project sales for western Pennsylvania and West Virginia.
Born and raised in New York, Ms. O'Toole has resided in Pittsburgh for 34 years. She has 31 years of lighting experience; coincidentally, her first job in the lighting industry was working with Paul Vincent, VLS's president. She specializes in application and specification of lighting control systems for theatrical, television, religious, and architectural projects. She has worked closely with architects, engineers, developers, contractors, and end users, and will continue to do so in her new role at Vincent Lighting.
Brian Bernicken has been promoted to project sales. Known to many customers as "Bernie," he got his start at VLS in 2002 as production specialist and in 2006 transferred to product sales. He will concentrate on working with end users for new projects and renovations in the Northern and Central Ohio region.
For more information, log onto www.vincentlighting.com.
Vortek Showcases Products at PLASA 10
Vortek, a division of Daktronics, attended the Professional Lighting & Sound Association (PLASA) show in London, September 12 to 15. Known for its versatile family of hoists and controllers, the company showcased its unique mechanical load brake. Representing Vortek were Ivan Del Rio, project manager for Europe and Middle East, and Dave Rossi, operations manager.
ETC Lights Ecosystems Wing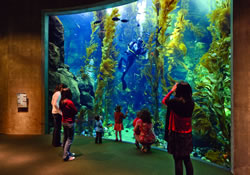 Electronic Theatre Controls (ETC) lighting and control products are key to illuminating the diverse exhibits, offices, and architecture in the California Science Center's new 165,000-square-foot Ecosystems wing, open to the public in March. Nearly 10 years in the making, the new permanent exhibit allows visitors to experience a blend of live animals and hands-on science experiments in 11 distinct ecosystems, each illustrating an ecological principle. The wing nearly doubles the exhibit space at the California Science Center and is expected to raise visits above the average annual attendance of 1.4 million that the facility previously welcomed.
ETC's Unison Paradigm control system, Sensor+ dimming, SmartSwitch relays, and Source Four fixtures were all part of the lighting and control package for Ecosystems. For more information on ETC and its products, please visit www.etcconnect.com.
Simultaneous Lighting Provided for Event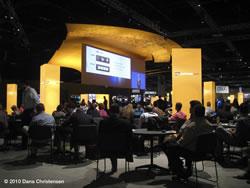 SAPPHIRE NOW, a yearly global business event presented by SAP, the world's leading provider of business software, was held simultaneously in Frankfurt, Germany and Orlando, Florida. The events highlighting SAP's innovative business solutions were linked in real-time online and streamed between venues. Production Resource Group (PRG) supplied the lighting systems for both venues.
For more information on PRG, visit www.prg.com.