Conference & Stage Expo:
Children's Theatre Transforms Experience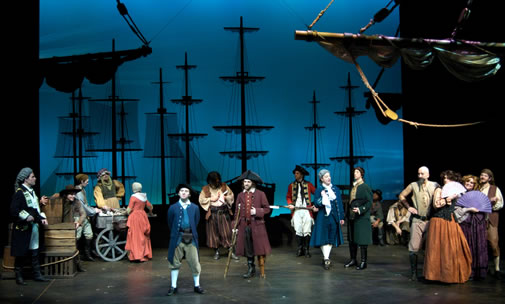 Children's Theatre of Charlotte's vision is to transform the way people experience children's theatre. Fittingly, the story of this professional theatre company for young audiences is itself a story of transformation. USITT will tap into the expertise and the energy of Children's Theatre during its 51st Annual Conference & Stage Expo which will be held in Charlotte from March 9 to 12.
Established in 1948 by the Junior League of Charlotte, Children's Theatre of Charlotte began as an entirely volunteer-based organization. Plays were produced in local school auditoriums and cast with young people and Junior League members.
Now entering its 63rd season, Children's Theatre of Charlotte has grown into the largest theatre in North Carolina and one of the largest theatres for young audiences in the nation. Each year, the theatre mounts 12 productions for public and school audiences and provides education programming at its facility and four satellite locations.
Children's Theatre of Charlotte also partners with Charlotte-Mecklenburg Schools (CMS) to provide programs that use drama to educate, such as classroom residencies and a production about substance abuse prevention that tours eighth grade classrooms. And the Theatre runs an extensive Community Involvement Program, which provides scholarship tickets and classes as well as no-cost programming at community sites.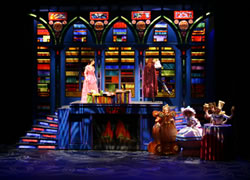 During the 2009-2010 season, with an operating budget of $3.9 million, Children's Theatre of Charlotte served almost 300,000 young people and families. Two moves into two very different facilities have allowed the Theatre to achieve this extraordinary growth. In 1971, the theatre moved into its first permanent home: a city-owned former VFW club located at 1017 East Morehead Street. The space had never been intended for use as a theatre, but volunteers organized to build a stage and elevated seating as well as production spaces, offices, and classrooms.
Over the next several decades, the theatre developed into a professional performance company as well as a beloved Charlotte institution. The first executive director was hired in 1979, and a stronger administrative and financial base led to more resources and higher production values.
By the late 1990s, it became clear that Children's Theatre of Charlotte was outgrowing its Morehead Street home. At the same time, the Charlotte Mecklenburg Library was running out of space for the Youth Services Department at its uptown branch. Theatre and library leadership hatched an audacious plan: to create a new, shared facility that would meet the needs of both organizations and inspire an original approach to education, learning, and the arts.
Eight years later, on October 8, 2005, ImaginOn: The Joe & Joan Martin Center opened to the public. ImaginOn is the only facility of its kind in the country bringing stories to life by combining exceptional theatre and literature for young people together under one roof.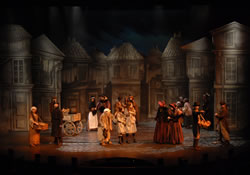 ImaginOn also represents a huge step forward for Children's Theatre of Charlotte's production capabilities. With two performance spaces, two large rehearsal halls, and scene, prop, and costume shops all under one roof for the first time, the Theatre is able to create and showcase more technically ambitious work. Its artistic team hires directors and actors along with professional set, costume, sound, and lighting designers from around the country.
The 570-seat McColl Family Theatre, home to the Theatre's largest productions, includes a full fly system and trappable space. The 250-seat Wachovia Playhouse provides an intimate venue as well as the home stage of the Tarradiddle Players, Children's Theatre of Charlotte's professional touring company. When not in residence at ImaginOn, the Tarradiddle Players perform throughout the Southeast, often in rural areas for audiences who would not otherwise be able to experience live theatre.
Strong education programs have also played a big role in transforming Children's Theatre of Charlotte into a national leader among theatres for youth. The Theatre places equal emphasis on its classes, camps, and in-school programming as well as its productions, making it unique among peer organizations.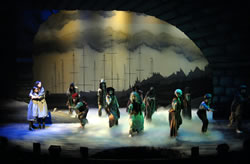 With production resources to draw on, Children's Theatre of Charlotte is able to offer an exceptionally professional education experience. Classes and camps take place in studios, in rehearsal halls, and on ImaginOn's two stages giving students the opportunity to perform in state-of-the-art spaces.
Production staff support education initiatives like the OnStage program, which casts year-long School of Theatre Training students in one of four kids-for-kids productions designed and built by the theatre's education and production teams. In addition, production staff teach technical theatre classes and offer internships for students.
This September, the theatre's offerings include theatre on a Broadway scale, challenging programs for teens, poignant storytelling from the Tarradiddle Players, and opportunities for theatre students to shine. Children's Theatre of Charlotte will continue to transform, but the organization will continue its commitment to provide unforgettable experiences on its stages and in its classrooms.
For more information, visit www.ctcharlotte.org.