News & Notices
Costumers Meet in Istanbul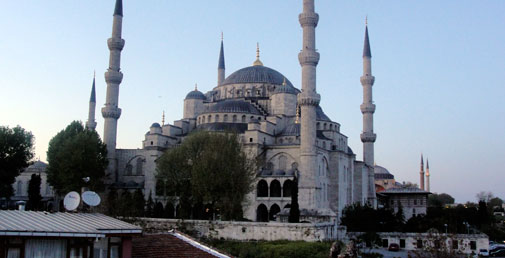 The Costume Working Group held its meeting May 2 to 9 in Istanbul, Turkey which included a symposium and exhibition as well as discussion of future plans. Evcimen Percin and Canan Goknil hosted the program for Istanbul focusing on the kaftan and its influence on western dress.
After a welcome from Ms. Percin and a brief "Introduction to OISTAT and The Costume Working Group" by Laura Crow, many wonderful papers were presented at the symposium.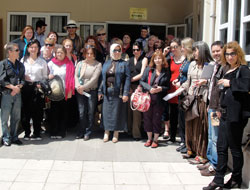 Presenters included Hulya Tezcan, Serdar Basbug, and Seref Ozen from Turkey; Irena Sentevska, Ljiljana Petrovic, and Selma Djulizarevic from Serbia; Tali Itzhaki from Israel; Simona Rybakova from The Czech Republic; Rosane Muniz from Brazil with Emilia Duncan; Kazue Hatano from Japan; Graham Cottenden from the United Kingdom; and Sofia Pantouvaki from Greece.
There was considerable interest in publishing the papers online as part of the Costume Working Group website at www.costumes.uconn.edu.
Bobbi Owen who was attending the Publications Commission meeting that met at the same time in Istanbul, offered to edit the papers and put them into grammatical English, a concern for many of the members. Copyright issues were also discussed.
A Kaftan Workshop was held at the Istanbul Moda Academy. Students worked along side the Working Group members, each interpreted the kaftan through different eyes. The titles ran from "Reconstructing Saville Row," that was a jumble of tailored jackets and ties made into a kaftan by Graham Cottenden and Gemma MacNay from the United Kingdom, to "Sixty-Nine," a kaftan made from 69 bras from 1969 done by Danish designer Lise Klitten. Images from the exhibition may be seen on the Costume Working Group website under "Istanbul."
The group visited IZMEK, a school that is renewing interest in hand crafts and traditional arts of Turkey.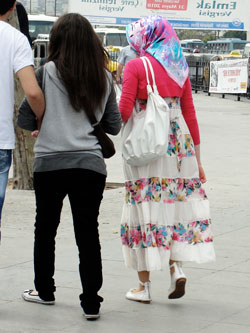 The government-sponsored program trains women in the arts of machine embroidery and hand done ribbon embroidery as well as traditional paints and glazes on ceramic objects, fashion design and construction, knitting, crocheting, jewelry making and hairdressing. It was in the conservative neighborhood where the women were veiled completely in black.
Most of the women of Turkey, however, wear fashionable hijabs, that are beautifully patterned silk headscarves. They also wear ankle-length long-sleeved coats in all range of colors, including white, but mostly modest tones of browns and grays. There are women in western dress as well, but not as commony as before. Often women students wear in blue jeans, cardigan sweaters, and hijabs. IZMEK is interested in selling their talents in the west, but so far only high priced fashion houses can afford to use them.
The Working Group has proposed creating a performance art piece in Prague.