Commissions:
New Way to Submit Costume, Education Poster Ideas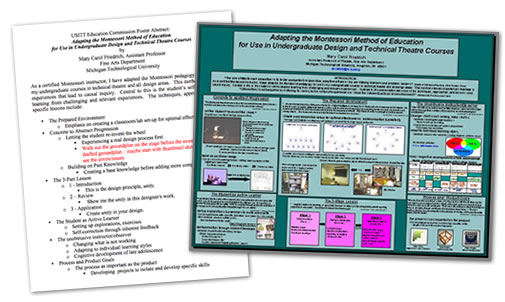 Found a new way to solve a costume conundrum?  Did a new way of communicating to students or coworkers pay off big?  Then share those ideas with a poster presentation at either the Costume Design & Technology or the Education Commission poster session as part of the Annual Conference in Charlotte, North Carolina in March 2011.
Poster sessions are a great way to share a new innovation with peers within USITT.  Sharing that little thing, which helps do things differently, can spur ideas in colleagues and help them solve problems that have been part of their lives for ages.  Poster abstracts will be reviewed by a panel from each commission, and those accepted will be notified.
Many past participants have found that, for those who have always wanted to present at a session, this is a great way to get their feet wet.  Presenters are able to discuss their concepts in an informal conversation during the poster session time.  MC Friedrich, chair of the Costume Poster Sessions noted that these presentations are accepted as scholarly publications at most institutions.  This helps those who are working on tenure files, and the content of what is being shared helps the entire industry.
Abstracts should be no more than 200 words in length and tell what is to be shared.  These are due by November 15, 2010.  The completed poster and handouts do not need to be ready until February, so submit a proposal now.  Many proposals have grown from the poster session to things like articles in TD&T, conference sessions, or working relationships between members sparking years of ideas.
Click here to see examples of proposals that have been accepted in the past. Those with questions about costume proposals should, contact MC Friedrich at mcfriedr@mtu.edu.  Questions about the education posters should be directed to David Navalinsky at navalinsky@uta.edu. 
To submit a proposal, title it with your member number and indicate whether the submittal is for costume or education (47491 costume or 47491 education). As part of the submittal, include a biography that is 50 words or less and title it with member number only.
Submissions should be sent to info@office.usitt.org.  The jurors will not see the names of the submitter, or the biography. The biographies will be used for the Conference program.