Show and Tell—New for Phoenix!
The Show and Tell feature of the Costume Design & Technology Commission's annual commission meeting will be held again at the USITT Annual Conference & Stage Expo. This presentation offers everyone a chance to see what other costume designers and technologists across the country are doing through a visual exhibition of work.
To participate, e-mail digital versions of color renderings, working drawings and/or production photos of costume design and/or construction work completed between March 2006 and March 2007. These images should be creative design work, great solutions to difficult costume problems, or just something of which the designer is quite proud. Included with these images should be play title, character, role on the production, and personal bio.
The coordinator will compile all of the submitted images and information together and present them during this year's conference. The difference this year, however, is that not only will the images be assembled into a DVD and played during the conference, but all those who submit designs will receive a copy of the DVD shown during the session!
So, with a few digital images and a simple e-mail, any costume commission member can have their work presented for all to enjoy. This event does not require a major display, lengthy concept statement, or even attendance at the Conference in Phoenix, Arizona. It is designed to be informal and fun. Show and Tell is open to costume designers and technologists at all educational levels.
Annaliese Baker, costume designer and professor at California State University, Fresno, is the coordinator of the event. Each applicant should send four to seven pictures of recent work in digital format either via e-mail or on disk. Include a brief biography and a short description of each image. The deadline for submission is March 1. Participants may e-mail anbaker@csufresno.edu or mail Annaliese Baker, California State University, Fresno 5241 N. Maple Avenue, M/S SA46 Fresno, CA 93740-8027; phone: 559-278-5110.
To Top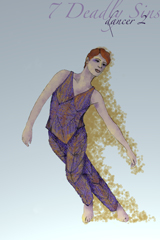 This drawing for a production of Seven Deadly Sins was included in the 2006 version of the Costume Design & Technology Commission's Show and Tell. For 2007, a DVD will be created and played during the event.

Image/Courtesy Annaliese Baker