Lighting Commission Finalizes Phoenix Sessions
Here's an early peek at what the Lighting Commission will present as part of the 47th Annual Conference & Stage Expo in Phoenix, Arizona during March.
Lighting by Tharon Musser will be a roundtable discussion with Tharon Musser's assistant lighting designers, exploring Ms. Musser's many accomplishments. (For the specifics about that session, click here.)
Virtual Scenography in Live Performance: An International Perspective will give a snapshot of current exemplary work happening around the world in so many exciting and provocative manifestations. Additionally, a short editorial summary will identify some of the emerging technologies to advance this aspect of the art and the hurdles which challenge current and future endeavors.
A series of sessions that deal with various aspects of working in the lighting profession will be presented, from starting out to working at the top of the profession. In Climbing the Lighting Design Ladder, young professional designers will talk about how they got started, and what they had to do to break into that first design. Theatre Lighting Director Overview features a blue-ribbon panel of professionals--including David Elliott, Christina Gianelli, Stan Pressner, and Chris Dennis -- who will join Steve Shelley in examining the skills, responsibilities, and tactics of a theatrical lighting director or lighting supervisor. The foursome will discuss contracts and scenarios, and compare the hardware, wetware, and political ware to get the job, keep the job, and survive the job.
In A Practical Guide to Festival Lighting, Stan Pressner, Doug Witney, and Steve Shelley (from Lincoln Center Festival, International Festival of Arts and Ideas, and the Spoleto Festival USA, respectively) will examine the skills, responsibilities, and tactics of creating or recreating theatrical lighting in a festival situation. Whether it's a premiere or a remount, lighting a show in this environment is unique and filled with the potential for pitfalls and rewards. The threesome will discuss their jobs and their perceptions regarding incoming shows.
Some of the less flashy but no less important parts of professional work are covered in Focusing on Accidents. When loading in and focusing a light plot, what are the best practices and preparation for electricians? How do workers stay safe and prevent accidents? What must be done if there is an accident? Writing the Lighting Renovation Specifications is something that occasionally needs to be done. Find out the shortcuts and pitfalls from the leading professionals in the field.
A number of sessions will deal with the tools and techniques of the lighting designer. Drafting Light Plots is a panel discussion and demonstration of the need to draft light plots that conform to USITT graphic standards. This session will review the current USITT graphic standards and how to apply them to a light plot. Digital technology has affected most aspects of stage lighting, but has it replaced more "traditional" analog technologies? Analog vs. Digital-Where Are We? will explore the present and possible future issues of finding balance between digital and analog skills.
The issue of training here and abroad will be discussed in two different sessions. Asian and European Approaches to Lighting Training explores the ways in which lighting design training is approached quite differently in other parts of the world. Instructors from European and Asian academies will explain their distinctive approaches to education for the lighting professions.
Closer to home, another session asks, Are We Giving Students the Skills They Need? Life Beyond Design. There are a variety of challenging, rewarding, and lucrative employment opportunities in the lighting field, but are students being educated for the vast possibilities for employment beyond being a designer? This session is a roundtable discussion with the folks who do the hiring.
The Lighting Commission Reception will allow participants to talk with lots of other lighting people and enjoy some good food and drinks. As always, check the Conference Program for specific times and locations. See you in Phoenix!
Even as the Lighting Commission finalizes plans for a great slate of sessions for the 2007 Conference & Stage Expo in Phoenix, it is looking for great ideas for the Houston conference in 2008. To suggest an idea for a session, e-mail Todd Studebaker at joutas@langate.gsu.edu, or call him at 404-651-2937.
To Top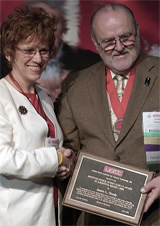 Kim Williamson, left, presents James Moody, right, with the 2006 Distinguished Achievement Award in Lighting at the 46th annual Conference & Stage Expo in Louisville, Kentucky.