Monograph, Special Session
To Honor Tharon Musser
A special part of the Lighting Commission programming at the 2007 Conference & Stage Expo in Phoenix is a celebration of the career of Tharon Musser and the publication of the third USITT Designer Monograph: The Designs of Tharon Musser.
A panel of Ms. Musser's assistants will discuss her Broadway and regional lighting career. Featured panelists will include (schedules permitting): Betsy Adams, Ken Billington, Rick Belzer, Kirk Bookman, Douglas Cox, Jeff Davis, Fred Hancock, Jo Mayer, Marilyn Rennagel, David Segal, Kendall Smith, and Anne Sullivan. All of Ms. Musser's assistants collaborated with Del Unruh on the production of the monograph on her work. The session will be hosted by Craig Wolf and moderated by Mr. Unruh.
Ms. Musser's remarkable professional career lasted from 1956 to 1999 and included 117 Broadway productions among which were: A Long Day's Journey Into Night, Mame, The Odd Couple, Follies, A Chorus Line (including the 2006 revival which used her original designs adapted by Natasha Katz), A Little Night Music, The Wiz, Brighton Beach Memoirs, 42nd Street, and Dreamgirls.
In addition to her Broadway career, she designed throughout the United States for regional companies such as the American Shakespeare Festival, the National Repertory Theatre, The Mark Taper Forum, the Dallas Opera, and the Miami Opera.
The session will be a free wheeling discussion with ample time for questions. After the session concludes, the panelists and Mr. Unruh will sign copies of the monograph in the USITT booth at Stage Expo. Copies of The Designs of Tharon Musser will be sold at the USITT Boutique and will then be available through the USITT online bookstore. The Lighting Commission will host a reception beginning at 7:45 p.m. that Friday which will continue the celebration of Ms. Musser's achievements
To Top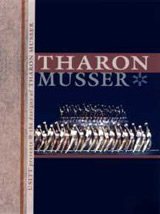 Shown is the cover of the third in USITT's Monograph Series on Tharon Musser. It will make its debut at the 47th Annual Conference & Stage Expo in Phoenix, Arizona where Ms. Musser's work will be discussed at a special session.