Great Discounts on Magazines & Periodicals
Stage Directions. Whether you're a producer, house manager, lighting technician, or set designer - if you're involved in theatre, Stage Directions® is the one magazine you shouldn't be without. Click the link in Members Only to receive a special offer just for USITT members - only $19.95 for one year (12 great issues). This special offer is ONLY available through the link in Members Only. You will be charged only $19.95 for your subscription - that's more than 66% off the regular newsstand price. (Offer available to US subscribers only.)
Start your subscription today!

Technical Brief. 20% off the regular subscription rate to Technical Brief - a tri-annual compendium of solution-oriented articles written by and for technical theatre professionals and students. For more information, call (203) 432-8188. To subscribe, download the order form in Members Only or visit www.yale.edu/drama/publications/tech_brief/index.html
Check Members_Only for the latest information on all your member benefits. If you have questions or suggestions for a new benefit, contact Membership & Ad Sales Manager Michelle L. Smith at 800-938-7488 or michelle@office.usitt.org.
To Top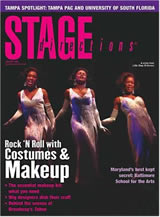 Among the discounts available to USITT members are savings on subscriptions to industry-related periodicals.