Costume Commission Seeks Toronto Program Proposals
The Long Beach conference is just weeks away, so spend the next few minutes writing up the proposals for the 2005 Toronto conference you have been planning but haven't had the time to sit down and write.
The Commission still needs professional development workshop ideas and regular session ideas. It votes on the upcoming year's proposals at the Long Beach 2004 Conference & Stage Expo. Commission members hope to emphasize the international aspects of the Toronto conference.
Programming is the backbone of this national event, and members make the programming happen. Individuals are needed to submit ideas and collaborate with peers to make sure there are interesting and informative sessions. Networking and brainstorming help is available for those with a germ of an idea to help bring it to fruition.
The process to propose a session is quite simple. Download a proposal form from the USITT website, www.usitt.org. Follow the link to Commissions where the form is available. Fill in some basic information about the program you would like to present and send it to Lori Hartenhoff, at School of Theatre & Dance, Northern Illinois University, DeKalb, IL. 60115, call 815-753-8255 or e-mail it to lorijh@niu.edu. There is also a link to the form on the Costume Commission web page.
To get everything organized and prepared for voting at the Conference in March, send those proposals as soon as possible.
To Top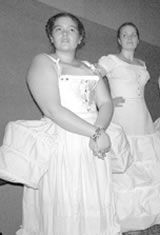 These models were volunteers for "A Brief History of the Brief," a session presented by Elizabeth Lewandowski at the 2003 Annual Conference & Stage Expo in Minneapolis.