International Activities
Be a Student Ambassador at USITT 2016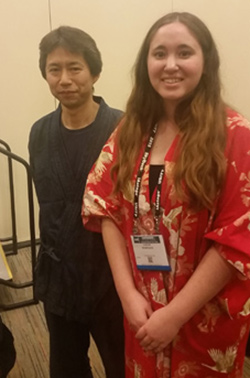 Three lucky students will get to serve as ambassadors to USITT's international guests at USITT 2016 in Salt Lake City.
The deadline for applications and recommendations for the Student Ambassador Program is Feb. 15. Applications may be sent to Shannan Hoerger at shannan@usitt.org. See application instructions below.
Each student accepted as an ambassador will be assigned to one of three guests – lighting designer Yaron Abulafia of Israel, costume designer Simona Rybakova of the Czech Republic, and arts management educator Wan-Jung Wei of Taiwan.
The program matches student members with visiting international guests at each Conference to encourage international networking between early designers and managers and global colleagues.
Three student members will be selected based on their areas of interest, compelling application, and letter of recommendation from an adult mentor.

Student Ambassadors receive free Conference registration and a luncheon with the three international guests. Those who have already registered for USITT 2016 will be given a refund if selected as a Student Ambassador.
Previous Student Ambassadors described the experience as life-changing. Read Sarah Robins' essay on being ambassador to Japanese mask-maker Hideta Kitazawa at USITT 2015 here.
Application requirements
Instructors/Mentors must submit a written detailed nomination that must include:
Name, title, position, and contact information
Name of your institution
Student's name
Student's email address and cell phone number
Student's grade level
Student's area of interest
Student's unique qualifications
Students must submit a written letter of interest indicating why they would like to take on this challenge. Include in your statement your field of interest and study and at least three questions you would like to ask your prospective guest.
Accompanying documentation:
Student's Résumé
Sample copies of Student's work (photo, drawing, rendering)
Contact information (email, cell phone)