Commissions
Make It Fit!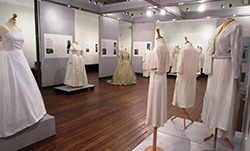 "Fashion is a form of ugliness so intolerable that we have to alter it every six months," Oscar Wilde wrote in The Happy Prince.
Sooner if it's a costume…much, much sooner. At USITT 2016, the Costume Design & Technology Commission will host several sessions addressing intermediate to advanced level issues regarding patterning and fitting.
When researching period looks for a costume, does the thought "If only I had the time to adapt this to make it work" pop up? Plan to get up early for the 8 a.m. session on Friday, March 18 for History's Mysteries: Patterning for Publication & Exhibition. It's a two-in-one session with Mandy Barrington and Nancy Hills sharing their separate research on garments and collections in Great Britain that has resulted solutions for adapting historic garments for the modern figure.
The choreographer needs the actor to do what?! In that fitted Edwardian suit?! Don't cry; the answers may be found on Wednesday, March 16 at 4:30 p.m. in High & Tight: Fitting Period Trousers & Sleeves on Active Actors. Kristina Hanssen and Laura Robinson will share their solutions for fitting period pants and sleeves that allow the actor or dancer to move as required while still maintaining the historic integrity of the period.
In the fitting room, the ingénue is shaped like an apple, the leading man in the shirtless costume has a sunken chest, the actor forgot to mention during initial measurements that she was three months pregnant, or any and all of the 10 people who feel the need to be in the fitting room at the same time are having melt-downs. Talking the Talk: Negotiating in the Fitting Room 1 p.m. Wednesday, March 16 will reveal ways to stay calm and professional (or appear to). The panel discussion will offer insight by experienced costumers into just such issues.
These and many more wonderful, useful sessions can be experienced at USITT 2016 in March.