News & Notices
In Memoriam: Sarah Nash Gates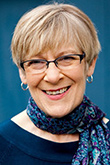 USITT members, colleagues, friends and former students across the nation were saddened to learn of the passing of USITT Fellow and former president Sarah Nash Gates on December 4 at her home in Seattle.
A USITT member for 40 years, Ms. Gates is best remembered by Institute colleagues as the Institute's first female president from 1992 to 1994. She was inducted as a USITT Fellow in 1983 and received the Joel E. Rubin Founders Award in 1995. Sarah served as a member of the Finance Committee starting in 1981 and chaired that committee from 1983 to 1991. More recently she served on the Awards Committee and the Graduate School Interview Task Force, which ultimately became the LiNK Program. She also served three years as president of the University/Resident Theatre Association (URTA).
On hearing of Sarah's passing, USITT Immediate Past President Lea Asbell-Swanger said, "Sarah was a wonderful person always willing to provide guidance and support to anyone in this organization and industry; all you had to do was ask. Not only was she our first female president, she was a role model. I know there were several times during my tenure when I would consciously consider what she would have done in a specific situation."
Sarah was first and foremost a highly respected and talented costumer, artist, and educator. Her professional credits included several tours and Off Broadway shows from her early freelance days in New York. In the Seattle area, her design credits included the Seattle Opera, Seattle Repertory Theatre and the Oregon Shakespeare Festival.
Sarah's professional training began in her hometown of Boston. After completing her BFA (Boston University, 1973) and MA (UC–Santa Barbara, 1974) she freelanced in New York City and taught briefly at Stephens College and SUNY-Fredonia before returning to BU to complete her MFA in 1984. She then joined the University of Washington faculty as a Costumer and a decade later advanced to the position of Executive Director for the School of Drama, a position she held for the next 20 years until her retirement in 2014. Sarah was always quick to credit her USITT experiences with providing her the necessary financial and leadership training to be successful in her later administrative career.
A pioneer and barrier-breaker, she was understandably proud of her unprecedented leadership as the first female chair of one of the nation's top five professional training programs. But as her colleague Sam Read wrote in a tribute on the UW School of Drama website, "To say that Sarah had a profound impact on the School of Drama and the Seattle theatre community does not do her justice. For more than 30 years, Sarah served our community as educator, mentor, leader, designer, producer, patron, and, most importantly, unfaltering champion of the artists and students with whom she worked. Her devotion to the field of theatre, to her work, and to the people in her life was unparalleled." The stage of the Floyd and Delores Jones Playhouse at the University was named in her honor shortly before her retirement.
USITT Fellow and close friend Rick Stephens recalled how Sarah impacted those around her: "She was always so fun and involved with everything. In addition to theatre she loved horseback riding, sailing, the Boston Red Sox, the Seattle Mariners, Washington Huskies football and the family cabin in Maine. People were just drawn to her. Charisma is difficult to define, but in her case it was a combination of intelligence, enthusiasm, charm, grace, beauty, wit, compassion, courage and personality. Sarah had all of that and more in abundance."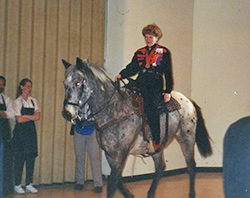 "It is impossible to have only one favorite memory of her. But for those of us in attendance at the 1993 Conference in Wichita, one incident stands out. The lovely Ms. Gates always took the work seriously, but always had a sense of humor regarding herself. The Conference had encountered a number of difficulties, but Sarah decided to lighten the mood by arranging to make her presidential entrance to the banquet riding a horse! And, of course, she raised spirits and brought down the house!"
"You know," he added. "I'll bet the first thing Sarah did upon arrival in heaven was to find the riding stables."
A Memorial Service for Sarah is scheduled for 6 pm Monday, Feb. 1, at Meany Hall on the University of Washington campus. View her Seattle Times obituary here.