News from Carolyn Satter, eSET Council
Why eSET? Who is it for?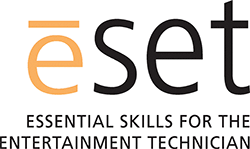 The answer to the second question is YOU, if you are in entertainment - studying, working, teaching or hiring, this tool is for you.
To answer the first question - What is eSET? It is an acronym for Essential Skills for the Entertainment Technician. The concept and lexicon began with the ESTA Foundation, and is being further developed by USITT. In essence, it is a proficiency examination, written and practical, determining the knowledge and skill set of an entry level entertainment technician.
With the successful passing of the both exams, a certificate is granted. Passing indicates accomplished basics. For the working technician, it shows proficiency with the entry level skill sets. For the educator, it is a teaching tool, a listing of the basic skills that students will need for success in the entertainment industry. For employers, it gives the confidence that their hire is familiar with the discipline. eSET provides an assessment, written by industry experts, for all sectors of the entertainment industry
The eSET process is two-fold. There is online testing for the essential knowledge and a practical exam testing applicable skills. The passing of the written exam is required before applying for the practical. The written exam consists of two tests: one of basic venue terminology and safety questions along with testing for a specific discipline.
This month, the online testing will go live for costuming, lighting, and rigging. Successful passing of this online portion will qualify the person for the practical testing at USITT 2016 in Salt Lake City, on Thursday and Friday, March 17 and 18.
The cost of the online exams will be $40 for the first test and $20 for each subsequent test. The practical exams are free. The first eSET certificates for those who pass both tests will be awarded at the Conference.
Terminology used throughout all of the exams is found in the lexicon, available to download on your Apple device here. Launch of the Droid app is scheduled for Feb 1.
Here is an overview of some of the skills being tested:
COSTUMING -- construction, stitching, fabric, tools, hardware, safety, personnel
ELECTRICS -- fixtures and accessories, electrical theory, cabling/connectors, color theory, digital control/protocol, safety, tools
RIGGING -- knots, RWL and design factor, hardware, theory: chain hoist, counterweight and hemp rigging, arena rigging, fall arrests, wire rope,
Certificates of successful completion will be awarded on Saturday, March 19, 2016 at the Innovation Stage, at the end of the eSET Jeopardy contest at Stage Expo. This event will begin at 12:45 pm.
For further information, contact Christine Troscher, USITT Education and Training Coordinator, christine@usitt.org