News & Notices
Chicago, UK, Quebec Theatres to Get Top Architecture Honors
The Theatre School at DePaul University in Chicago; the Everyman Theatre in Liverpool, U.K.; and the Salle de Spectacles de Mont-Laurier in Quebec, Canada; will receive USITTs 2016 Architecture Award Honor Awards.
The Performing Arts Center at the State University of New York Potsdam and Norway's Stavanger Concert Hall also will be recognized with Merit Awards in the annual competition for best contemporary performance spaces.
Designers and consultants for the winning venues will receive their awards at USITT 2016 in Salt Lake City March 16 to 19.
USITT's Architecture Commission received 20 submissions to this year's contest. This is the first time since 2001 that a jury has bestowed three Honor Awards.
This year's jury, led by Architecture Vice Chair William Murray, AIA, included Architect Mark Reddington of LMN Architects in Seattle; Duane Schuler of Schuler Shook Theatre Consultants, Chicago; and Acoustician Russ Cooper of Jaffe Holden Acoustics, Norwalk, CT.
2016 HONOR AWARDS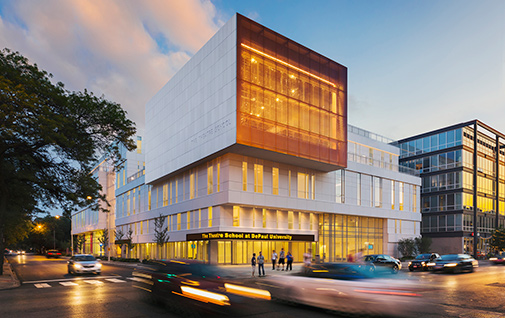 Architect: Pelli Clarke Pelli, New Haven, CT

Theatre Consultant: Schuler Shook, Chicago

Acoustical Consultant: Kirkegaard Associates, Chicago

Cost: US$63.2 million

Completed: 2013

Scope: 175,000 square feet, two theatres, acting/movement/voice and design studios, all shops, theatre support spaces, public areas and offices.

Description: "There is a fluidity between inside and out: scene shops, normally hidden, are placed on the first floor behind glass and pedestrians may watch the building and painting of sets … The fourth-story 100-seat black box theatre cantilevers above the sidewalk. Creative lighting design illuminates the interior frame of the large, square window, and like a scrim, reveals the space to the outside world."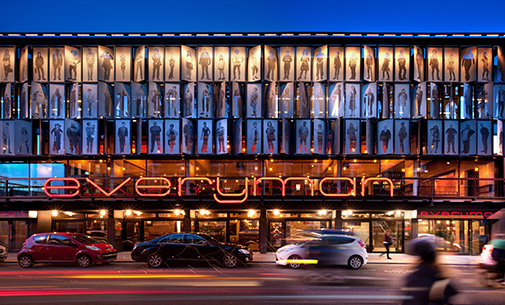 Architect: Haworth Tompkins, London

Theatre Consultant: Charcoalblue, London

Acoustical Consultant: Gillieron Scott Acoustic Design, London

Cost: £13.4 million

Completed: 2013

Scope: 400-seat adaptable theatre, smaller black box, rehearsal room, exhibition spaces, catering/bar facilities, workshops and supporting offices.

Description: "Sustainable practices included dismantling the existing 19th century structure and salvaging the old bricks for re-use in the auditorium shell. The façade is a collaborate work of public art. The building aims to be as inclusive and accessible as possible for all users, both front and back of house. The team worked closely with Making Access Work, and an access forum of theatre users with a wide range of disabilities reviewed the project at all stages of the design process."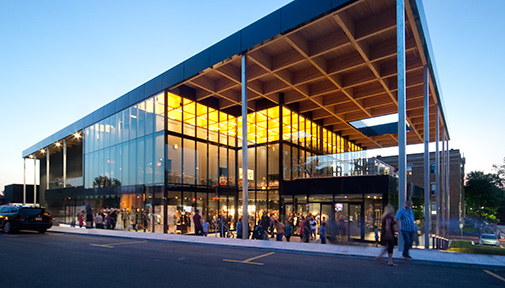 Architect: Les Architectes FABG, Montreal
Theatre Consultant: GO Multimedia, Montreal
Acoustical Consultant: N/A
Cost: CA$9.2 million
Completed: 2015
Scope: 3,200-meter multipurpose hall able to accommodate traditional performing arts events as well as configurations for cabarets, banquets, corporate events and trade shows.
Description: "A structural grid of cross-laminated wood beams supports the roof and creates a canopy over the main entrance. It clearly communicates the importance of wood for the region and supports the local development of new technologies that add value to this natural resource with a better environmental footprint than steel and concrete."
2016 MERIT AWARDS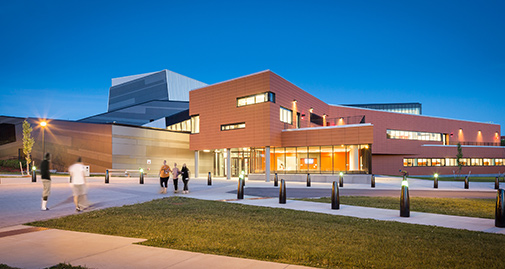 Architect: Pfieffer Partners Architects, Los Angeles
Theatre Consultant: Fisher Dachs Associates, New York City
Acoustical Consultant: Acoustic Dimensions, New Rochelle, NY
Cost: US$43 million
Completed: 2014
Scope: 97,000-square-foot facility with 350-seat proscenium theatre, 200-seat black box theatre and 200-seat dance performance hall, studios for theatre and dance, crafts and costume lab, lighting design lab, other support spaces.
Description: "Bringing dance and theater together under one roof for the first time in either program's history, and locating them adjacent to the Crane School of Music, provided the university and the design team a great opportunity … The lobby became the living room of a new arts village where all paths would cross, blurring the distinction between front of house and back of house, and one school from another."

Architect: AIX Arkitekter AB, Stockholm Sweden
Theatre Consultant: AIX Arkitekter AB
Acoustical Consultant: Kahle Acoustics, Brussels, Belgium
Completed: 2012
Cost: €130 million
Scope: Two auditoria of similar size, 1,500 seats and 800 to 1,900 seats, one primarily for natural acoustic sound and one for amplified sound, both with side balconies extending to the front of the stage.
Description: "Stavenger Concert Hall is a versatile venue and stage, for a wide variety of genres from rock and electronica for a standing audience, to intimate chamber music and dance performances … Built in separate constructions, the two halls are soundproof from each other, making it possible to have a loud rock concert in Zetlitz Hall and an acoustic symphonic performance in Fartein Valen at the same time."