News Releases from
Our Industry Members
ETC: Gio 'Transfers' Nuremberg Theatre to Beijing
Contributing member ETC provided Germany's Staatstheater Nürnberg – or Nuremberg State Theatre – with an easy way to bring its performance of Arthur Miller's Death of a Salesman to China's National Centre for Performing Arts in Beijing. The company supplied the Beijing theatre with a Gio control desk and over 40 traditional Source Four fixtures like those used at the Nuremberg theatre, allowing lighting designers Wolf Gutjahr and Ernst Schiessl to bring the show file to China on a USB stick.
Vectorworks: Launches Spanish, Portuguese Software Versions
Sustaining Member Vectorworks, Inc. recently released Spanish and Portuguese versions of its Vectorworks 2016 software line. Part of a worldwide rollout, the Spanish and Portuguese versions join English, Dutch, French, German, Italian and Norwegian versions relesased over the past few months. Software products are now offered in these languages include Vectorworks Designer, Architect, Landmark, Spotlight and Fundamentals, as well as Renderworks software.
Chauvet: Over 200 Attend Grand Opening, Products Earn Awards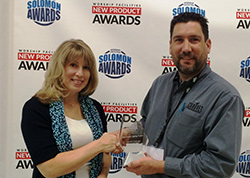 A crowd of over 200 lighting professionals marked the grand opening of Sustaining member Chauvet's European headquarters in Ghent, Belgium, and the company's 25th anniversary by enjoying an evening of festivities, product demonstration, music, and a breathtaking lightshow. As Chauvet's second European facility, the office will cater to demand in the Belgium, Netherlands, and Luxembourg regions.
The Ovation ED-190WW fixture from Chauvet earned two awards at the WFX Conference and Exhibition. It won the 2015 WFX Best Lighting Product Award as well as the Best LED Product Award.
LynTec: RPC Boards Support BACnet Protocol
Supporting Member LynTec recently announced that its Remote Power Controller (RPC) family of panels now supports the open BACnet networking protocol.
Meyer Sound: Dave Matthews Band Tours Europe with LEO
Now in its 20th year of touring with Contributing member Meyer Sound systems, Dave Matthews Band (DMB) again relied on a LEO linear large-scale sound reinforcement system for its recent 20-city tour of European arenas. LEO is the latest in a line of Meyer Sound loudspeaker systems provided by longtime supplier Pro Media/UltraSound, dating back to DMB's first major headline tour in 1996 with an MSL-3A conventionally powered loudspeaker system.
Nicopress: Introduces Cable Cutter
Supporting member Nicopress introduced its 1-VC1, a new powerful cable cutter, at LDI 2015. Designed for repetitive use cutting cable up to 3/16 inch in diameter, the 1-VC1 produces clean cuts without fraying wires. It requires lower handle force, resulting in less hand fatigue. Featuring a longer life blade, the cutter is ergonomically balanced for easy, one-handed operation. Non-slip grips provide a firm, comfortable feel.
RC4 Wireless: Goes Mountain Biking in Darklight
Sustaining member RC4 Wireless' Magic-900 was the backbone for the wireless rig set up to film Darklight, a film about extreme professional mountain in the most remote forests of Oregon and the moonscapes of Utah.
GLP: Introduces Impression X1
Sustaining member GLP's tiny, lightweight, and budget-conscious Impression X1 is now in production. It marks a departure from other products in GLP's X range by featuring four, high powered, 15W RGBW LEDs, with a narrow fixed beam output, that offers continuous pan and tilt motion in a compact housing — and it is this continuous motion that gives the product its unique twist.
Nova Lume: Green GO Integrated into NFL Systems
The National Football League is implementing Green GO Digital Intercom, distributed by Sustaining member Nova Lume, across its Instant Replay and Injury Review systems this season. Through extensive testing, Green GO has modified existing products to more closely align with the NFL's specific requirements.
City Theatrical: Named Manufacturer of the Year
Contributing member City Theatrical was named the New Jersey Small Manufacturer of the Year by NJBIZ Magazine in partnership with the New Jersey Manufacturing Extension Program, at the fourth annual New Jersey Manufacturing Day ceremonies in October.
City Theatrical was recognized for bouncing back from the devastating effects of Hurricane Sandy, which poured 39 inches of water into its 40,000-square-foot Carlstadt facility, damaging or destroying all its manufacturing equipment as well as phones, computers, offices, files, and most inventory.
PRG: Supports The Wiz Live!
Contributing member PRG provided video, scenic, and automation support to help bring Oz to life for Designer Derek McLane's vision for The Wiz Live! on NBC Dec. 3.