News & Notices
Announcements
Student Architecture Deadline Jan. 19
Teams of students entering USITT's 2016 Architecture & Theatre Student Design Competition must submit their theatre designs by Jan. 19.
The contest asks teams of architecture students with at least one theatre student to work together to design an "ideal" theatre for their campus. Students already should have declared their intent to compete. Submissions may be sent to Rose Steele at rose@landb.com.
A professional jury will select the three top designs for $1,000 cash prizes, and those teams will present their work at USITT 2016 in Salt Lake City. The top team will get another $500 and formal recognition for their school.
The competition is sponsored by American Seating. For more information, contact shannan@usitt.org.
Save Money on USITT 2016, Register by Feb. 4
There's still time to get a break on USITT 2016 rates! Register for the Conference by Feb. 4 to avoid paying the on-site price in Salt Lake City.
Before Feb. 4, the rate for the full 2016 Conference & Stage Expo is $396 for members, $565 for non-members, and $240 for student/early career members. The rates will rise to $468 member, $670 non-member, and $298 student/early career on Feb. 5.
Late & Great: American Designers Available for Purchase

Late & Great: American Designers 1960-2010, a compilation of 25 essays profiling design pioneers in scenery, costumes, lighting, sound, and make-up, is available in the USITT member-exclusive bookstore for $30.
The book, edited by Bobbi Owen, includes chapters on Ben Nye by Patricia Dennis, Thomas Skelton by Rich Dunham, John Gleason by Linda Essig, Abe Feder by Annie O. and Barry Cleveland, and more.
To order, go to www.usitt.org/lategreat or call 800-938-7488.
Stage Technologies NATEAC 2016 Platinum Sponsor
Stage Technologies is once again the Platinum Sponsor for the North American Theatre Engineering and Architecture Conference.
Bill Sapsis of Sapsis Rigging, a Sustaining member, is director of NATEAC and organized its first quadrennial conference in 2008. NATEAC 2016 will be held July 17to 18 in New York City. For more information, visitt www.NATEAC.org
Jan. 12 Deadline for Young Designers', Technicians' Forums
Applications are being accepted through Jan. 12 for USITT's Young Designers' Forum and Young Technicians' Forum to be part of the Conference in Salt Lake City.
These forums bring talented students in their last year of graduate or undergraduate program together with established designers, technicians, and directors for a review and discussion of students' work.
Participation is by juried selection based on resume, two letters of recommendation, and 16 to 24 examples of each applicant's work. The forums are limited to no more than 15 students each. Applicants must be student, early career, or individual members of USITT. Those accepted will receive free full Conference registration.
There is a $40 entry fee.
PLASA Raises $18K for Behind the Scenes at LDI Happy Hour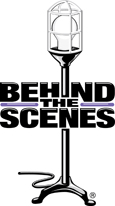 More than 400 guests attended the Behind the Scenes Happy Hour, hosted by PLASA at LDI October 22, from 6-8 pm at the Westgate Las Vegas. Thanks to the generosity of sponsors and attendees, PLASA was able to donate over $18,000 to Behind the Scenes.
Sponsors of the Behind the Scenes Happy Hour included Altman Lighting, executive sponsor; 4Wall Entertainment, IATSE, Nemetschek Vectorworks, Inc., and Ultratec, platinum sponsors; Heartland Scenic Studio, Inc., LDI, RC4 Wireless, and Stage Equipment and Lighting, Inc., gold sponsors; Barbizon Lighting Company, ENTTEC Americas, iWeiss Theatrical Solutions, LEX Products, Musson Theatrical, Stan Pressner (Silver), Sapsis Rigging Inc and Alan Rowe & Tristan Smith, silver sponsors; CMET,badge sponsor; and Lighting&Sound America and Protocol, official media sponsors.
Parade Float Fall Prevention Standard Available for Review
BSR E1.57, Recommendations to prevent falls on or off movable parade floats, movable stages, and similar moving platforms is available for public review through Feb. 1.
It offers recommendations to prevent falls by anyone on parade floats, movable stages, and similar moving platforms.