News From
Sustaining Members
Alcons: Bright Star Musical Shines
Hollywood star Steve Martin and singer/songwriter Edie Brickell might seem an unlikely pair to write a musical, but their shared love of bluegrass music resulted in Bright Star, a story of love and loss in North Carolina's Blue Ridge Mountains. Delicate reproduction of the bluegrass score was vital to the show's success, which is why sound designer Nevin Steinberg chose an Alcons pro-ribbon sound system.
Bright Star premiered at the Old Globe Theatre in San Diego, California where the show's music and the theatre's physical attributes perfectly benefited from Alcons pro-ribbon audio technology.
The system included eight Alcons LR7s micro (single 6.5-inch by 4-inch pro-ribbon) line-arrays and two LR7B single 12-inch line-array subs as a split cluster, flown centrally above the proscenium, plus left-right arrays of five LR14 ultra-compact (double 6.5-inch by 4-inch pro-ribbon) line-arrays and an LR14B double 12-inch sub each on the proscenium itself, with the whole system powered and controlled by three Sentinel 10 4x 2.5kW and 96kHz Amplified Loudspeaker Controllers.
The production's onstage band all played acoustic bluegrass instruments, with other musicians playing cello, viola, mandolin and keyboards offstage.
For more information, visit www.alcons.audio
Chauvet Professional: Rogues Add Flair to Broward Center Ballroom
After completing a $60 million renovation project, management felt the lighting in the center's new ballroom needed to go beyond what a conventional system could deliver. They found what the wanted in a collection of Rogue R1 Spot LED moving fixtures from Chauvet Professional.
Sitting on five and a half acres of palm tree-lined riverfront property in downtown Fort Lauderdale in a gracefully balanced modernistic building designed by American Institute of Architecture Gold Medal winner Benjamin C. Thompson, the center has become one of the most popular theatre venues in the U.S.
Twelve Rogue R1 Spot fixtures are evenly spaced around the center of the ballroom. The Rogue R1 Spot features a rotating three-facet prism, seven interchangeable gobos, 16.5-degree beam angle, and motorized iris and focus for beam shaping. These and other features of the Chauvet moving fixture help create a variety of looks for the ballroom's diverse range of functions.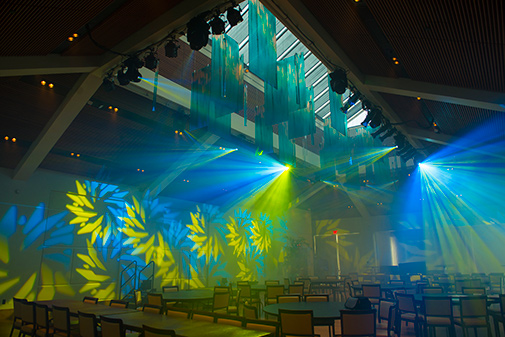 GLP: X4 Bar Joins Product Lineup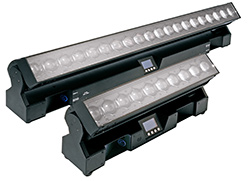 GLP recently announced the full production release of the latest addition to its product range: the X4 Bar.
The range features two fixtures, the X4 Bar 10 and X4 Bar 20, both high performance battens offering flexibility to today's lighting designer across multiple applications. The X4 Bar uses high output RGBW LEDs that are packed tightly to give a full batten of light, with 20 LEDs used in the 40-inch long (100cm) X4 Bar 20 and 10 LEDs in the shorter 20 inch (50cm) X4 Bar 10. High quality optics ensure a smooth, homogenized output across the batten through a broad pallet of pastel and saturated colors. This allows for subtle graduated fades, or for distinct color breaks between LEDs. DMX control offers full pixel mapping capabilities, allowing a whole multitude of dynamic fades and chases through intensities and colors.
Advanced versions of the X4 Bars have appeared on several high profile events, most recently the American Idol finale and the Eurovision Song Contest in Vienna.
Cobalt Studios: Sign Painting Intensive Offered
Sign Painting: The Art of Lettering for Theatre and Film, Painting For Film And Television will be held by Cobalt Studios August 17 to 21.
Theresa Dringenberg will lead this in-depth seminar that will address traditional sign materials, tools, alphabets, and lettering techniques. Aged signs, special effects, and unusual surfaces will also be covered. Ms. Dringenberg draws from her classical lettering training and over 25 years of experience to guide participants
For more information, visit www.cobaltstudios.net/training/sps.html.
Theatre Projects: Los Angeles Office Is Now TheatreDNA
Theatre Projects will spin off its Los Angeles office into a new company, TheatreDNA.
Long-time Theatre Projects principals Michael Ferguson and Benton Delinger will transition from their roles at Theatre Projects to lead TheatreDNA along with Fred Vogler, founder of Sonitus, a Los Angeles-based AV design firm that will be merging with TheatreDNA.
For more information about TheatreDNA, visit www.mytheatredna.com