News & Notices
Ingenious Ideas in Tech Expo 2015 Catalogs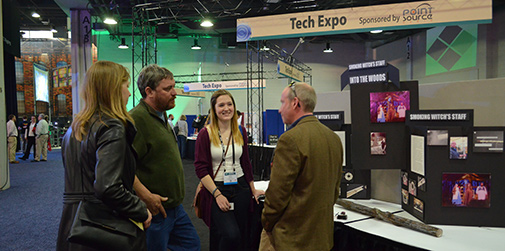 The top three projects earning USITT's 2015 Tech Expo awards are all about making special effects more realistic – an LED candle, a valve system for instant stage rain, and a wireless controller to activate pneumatic effects "with the click of a mouse."
A Realistic and Interactive LED Candle by Trent Kugler, production supervisor at Contemporary American Theater Festival in West Virginia, uses an Arduino microcontroller, a small wind sensor, an IR sensor, and three LEDs inserted into a hollowed out pillar candle to create a candle that lights when it senses a flame, flickers realistically, and can be "blown out" by an actor's breath.
No Rain Delay by Adam Maxfield, technical director, and Laura Pates, assistant technical director at PlayMakers Repertory Company in North Carolina is a system of electronically controlled irrigation valves to make it rain onstage with no hesitation or post-storm dripping.
Chris Rybitski, stage shop foreman at the University of Virginia devised Wireless Solenoid Controller, a wireless system and software package to control pneumatic effects – like kitchen shelves tipping to spill their contents in Mary Poppins -- using a PC with Windows.
These are just three of 18 creative solutions to theatre technology problems collected in the 2015 Tech Expo Catalog, now available for purchase at www.usitt.org/store.
In the catalog introduction, Tech Expo Chair Rob Kerby writes, "I have begun to think of this project as a means of honoring the unsung heroes of theatre technology." He sees his past Tech Expo catalogs as "practically another production team member that I refer to from time to time to help me out of a bind."
Other 2015 ideas include using a vaporizer system like those in electronic cigarettes to create a witch's staff that lights up and blows smoke for Into the Woods, using drip irrigation tubing to create the structure of a woolly mammoth costume for Thornton Wilder's The Skin of Our Teeth, and making water-resistant mic packs from polyurethane laminated fabric used in cloth diaper covers.
Tech Expo is a biennial event that will produce its 16th exhibit and catalog for the 2017 Annual Conference & Stage Expo. Past catalogs also are available at the USITT store.