News & Notices
Meet VP-Programming Kasey Allee-Foreman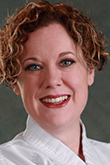 Kasey Allee-Foreman is a familiar face at USITT, having coordinated programming for the Annual Conference & Stage Expo for almost 10 years and having served on the Board of Directors for three.
This month, she takes over as Vice-President for Programming from Tom Hackman. In this role, she'll lead programming efforts that are growing far beyond the Conference.
"I think it's incredibly exciting to continue excellence in programming at the Conference, but also to offer more year-round education and training opportunities like Elite Training and USITT Presents," she said.
Her leadership in the Institute follows her career path from theatre technician to designer to production manager. Growing up as the eldest of three girls, she said, "My father never acted like there was anything I couldn't do."
After acting in middle and high school, she went to Furman University for pre-med but decided to keep her theatre "hobby." She was cast in the first show and took a work-study job in the costume shop since she knew how to sew. There, "I discovered and fell in love with the whole world of design and production," she said.
Ms. Allee-Foreman ended up studying costume and lighting design, which led her to the Southeast Regional Sections's 1996 Master Classes featuring Desmond Heeley. "The way he spoke about his art, his standards, his love of theatre, and his passion for life struck such a chord with me that I knew this industry was my home," she said.
She participated in "an incredibly magical" USITT Costume Intensive trip to England the next year and has been an active member since. She spent two years in the film industry in Los Angeles, where she said, "I really honed my production management skills on a scale that has been so helpful to me in my design and management careers." She went on to earn her MFA in costume design and lighting design from the University of New Orleans.
After several years in costuming -- including stints at the Houston Shakespeare Festival, Stages Repertory Theatre, Houston Grand Opera, and the University of Oklahoma -- she supervised her way into production manager roles at OU and the Sphinx Organization, a non-profit for diversity in the arts, a cause she cherishes.
Ms. Allee-Foreman said roots in Colorado and New Orleans gave her a passion for celebrating diversity and advocating for equity and inclusion. She worked to establish and expand USITT's Women in Theatre Network and its Diversity Initiative, which she has chaired for two years.
"New Orleans is an amazing blend of cultures and heritages, and we celebrate everything! I find that informs how I approach many things in my life, especially experiences that may not be my norm," she said. "In Colorado, everyone is very independent and respected. Growing up, all my friends had different religions and races and socioeconomic backgrounds, and my insatiable curiously and passion for learning how things work have made those differences beautiful contributions to my life."
Her other passion is Tae Kwon Do, a sport she discovered through her two young sons. She is currently training for her black belt.
"It provides such stress relief, is such a positive family environment, and I love that my boys see me choosing a healthy lifestyle and that they think I'm strong," she said. "We train with a pretty equal split of men and women, and I love modeling gender equality for my sons as we train together."