News & Notices
LiNK 2015 Offers Grad School Interviews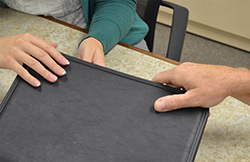 Potential grad students can meet with several grad schools for interviews at the second annual LiNK November 13 to 15 at the Atlanta Airport Hilton, Atlanta, Georgia. USITT and SETC are organizing the event, and Focal Press is returning as Platinum Sponsor.
Last year's premiere drew 48 theatre grad school programs and 80 potential students for two days of interviews, auditions, portfolio reviews, and networking. This year, USITT and SETC hope to increase the number of institutions and potential grad students, said USITT Executive Director David Grindle and SETC Executive Director Betsey Horth.
"This event is vital to our mission to support continuing education for our members," Mr. Grindle said. "We are providing the most affordable, accessible, and convenient opportunity to connect aspiring grad students in our industry and theatre schools seeking candidates for their advanced degree programs."
"The 2014 participation at LiNK and the feedback from recruiters and applicants was remarkably positive," Ms. Horth said. "We plan to build on its success and fold in suggestions to enhance the process and grow the graduate school auditions and interviews for 2015. There's also the fun piece – our Friday LiNK Soirée is back again, thanks to the sponsorship from Focal Press."
Interviews/auditions will be offered in the areas of acting, directing, stage management, arts management, scene design, costume design, lighting design, sound design, technical direction, stage technology, lighting technology, and costume technology.
The fee for students remains $40, less than the cost of one grad school application. At last year's LiNK, some students met representatives from over 20 schools in one weekend. Online applications for students will open in August.
Institutions pay $125 to participate. Registration for institutions is now open at www.usitt.org/link15.
The timing of the event gives students connections and information early in the school year. The Atlanta Airport Hilton location allows participants to get off a plane and be at the event in minutes. The Hilton is offering hotel rooms for under $100 to LiNK attendees, and those who stay overnight can attend evening gatherings for informal networking.
Participating schools last year included Carnegie Mellon University, CALArts, The Ohio State University, University of Alabama, University of Georgia, and the Stella Adler Studio of Acting.
In 2014, LiNK held one day of interviews for theatre tech students and one day of auditions for acting and directing students. This year, LiNK will expand to three days, with Sunday morning available for callbacks.
For more information, check for updates at www.usitt.org/link15 or www.setc.org/link15.