News & Notices
Two Benefit from ECM Mentoring Assistance Program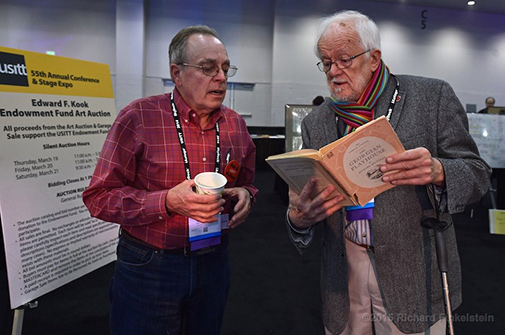 Renee Garcia and Eben Alguire were the first to benefit from the USITTs Fellows' Mentoring Assistance Program, which provides mentoring and financial assistance for two Early Career Members. The recipients were able to attend the Cincinnati 2015 Conference & Stage Expo under the guidance of two Fellows.
Ms. Garcia and Mr. Alguire were selected based on their work to date and accomplishments achieved in starting their careers. They met with Fellows Mentors Sarah Nash Gates and Ben Sammler at the Conference where they discussed the entertainment business and met with many colleagues.
Based on this year's success, the program is expected to continue and be a basis for other awards geared toward Early Career Members. ECMs can look for announcements in upcoming Sightlines and direct e-mails.
Ms. Garcia and Mr. Alguire recently reported on their Conference experiences
Ms. Garcia:

The Conference was a transformative experience; I had a wonderful time and met some incredible theatre artisans. A huge part of what made this year's Conference so productive and enjoyable was being selected for the Fellows ECM Mentoring Assistance Award. The ECM Mentoring Program was helpful in providing a view of the bigger picture, which I believe will be helpful in my long-term goal – to have a lasting career as a theatrical designer. As a new member, it can be intimidating to go to a large event like USITT and not know very many people, but Sarah helped pave the way for me to double my theatre connections. I now want to make USITT more of a priority, part of my yearly routine, and become more actively involved by working on committees.

Mr. Alguire:

At the end of the day on Friday, I came to our second official meeting, the Yale Alumni Reception. Ben suggested that I mingle with the people who were there and introduce myself. Despite being a somewhat shy and reserved person when it comes to those unfamiliar to me, I did as he suggested. And it worked out wonderfully! Perhaps the most exciting thing about this whole program, aside from having the undivided attention of a leader in our field, was getting a chance to know Mr. Sammler as a person instead of an abstract name that gets thrown around and whose books get read.