News & Notices
Golden Pen Award Named for Designer, Author Oscar G. Brockett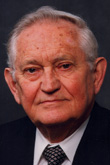 USITT's top publications award will now be known as the Oscar G. Brockett Golden Pen Award and a cash prize given to the winner thanks to a collaboration with the Oscar G. Brockett Center for Theatre History and Criticism at the University of Texas at Austin.
The award for a book-length project, first given in 1986, has not carried a monetary award as other USITT publications awards do. Under this partnership, the Brockett Center and USITT will each provide $1,000 to future award recipients. The prize will continue to include complimentary USITT Conference registration and two nights hotel stay.
Charlotte M. Canning, Director of the Brockett Center, said "I know Dr. Brockett would be proud to have his name on this award. USITT was one of his professional homes and he always treasured his time with colleagues there. He was a champion of design and technology scholarship so everyone at the Brockett Center is thrilled to have his legacy honored."
2016 Golden Pen nominations close August 15. Nominate here.
Oscar G. Brockett was a scenic designer, author, and scholar at UT-Austin who "wrote the book" on theatre history. Besides his several famous History of the Theatre editions, he co-authored Making the Scene: A History of Stage Design and Technology in Europe and the United States with Margaret Mitchell and Linda Hardberger. He died in November 2010, a few months after the book won the 2010 Golden Pen Award.
"I am so pleased this award now has his name," said Ms. Mitchell, a costume and scene designer and former student. "I know he would also be very happy about it. Dr. Brockett started his career in the theatre as a TD and scene designer, and stage design always remained important to him. In some ways, working on Making the Scene brought him full circle back toward the genesis of his life in the theatre."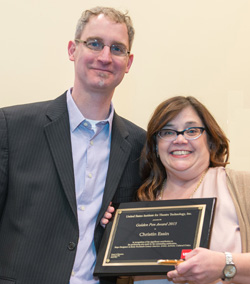 His work is credited with inspiring several generations of students in technical theatre. The USITT Oscar G. Brockett Golden Pen Award "seems an appropriate way to honor an important figure as well as to promote the highest levels of research and writing about the disciplines that USITT champions," wrote USITT VP-Publications Michael Mehler.
The Oscar G. Brockett Center for Theatre History and Criticism promotes excellence in the study of theatre history by recognizing the highest quality scholarship and pedagogy in the field, so its sponsorship of the Golden Pen seems a perfect fit, Mr. Mehler said. USITT's Board of Directors approved the agreement last month.
Nominations for the 2016 Oscar G. Brockett Golden Pen awards are open through August 15. For more information and award criteria, visit www.usitt.org/goldenpen.