News & Notices
Theatre Tech Teacher Taps USITT Training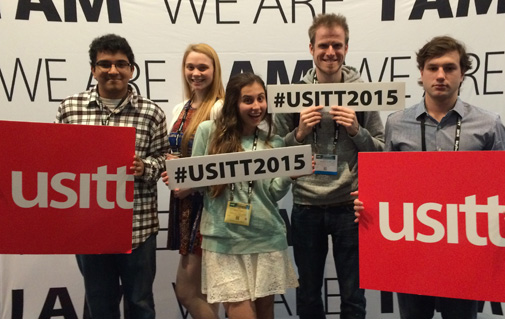 Two years ago, Kyle Himsworth wasn't too familiar with USITT. He had just started a job as performing arts facilities manager for the Indian Hills School District in Cincinnati. He studied acting, directing, and sound design at the University of Dayton, but had never taught technical theatre to kids.
His school district welcomed his idea to use its two theatres to teach stagecraft at the high school level. They let him start an afterschool club, the Indian Hill Tech Crew, and offer class credit to students to learn lighting, sound, and rigging.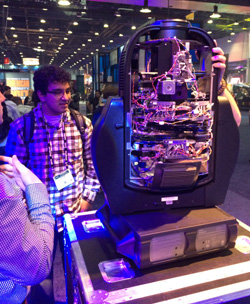 Now he needed some teaching tools. That's where USITT came in.
"Indian Hill was still using a CD player or an iPod to play music," he said. "They would have technical issues with assemblies and shows, and I knew we needed a more reliable playback device. We were able to buy a Mac and a license for QLab show control software. It's used primarily for audio playback, but it can do MIDI, video projections, even Power Point, and run automation."
He found a USITT Presents Figure 53 QLab 3 training class in Washington, D.C., and asked the school to send him. He joined the Institute to get the member rate, and came away a USITT training enthusiast.
"The trainer shared a lot of cool things, nifty tools and tricks to make it easy to work with students," he said. "If I say, I can make this song start to play every time you walk into the room,' it blows them away. Or we can sit around the console and figure out how to make a thunderstorm using stock sound. Do we want a full-on T-storm, or will the rain start and fade out slowly? It becomes a really effective teaching tool, and then the kids want to learn more."
When he got an USITT e-mail about Elite Training 2014, he jumped at the chance to refresh his sound design knowledge and acquire more tools.
He called the four days he spent learning D-Mitri programming with Meyer Sound, "a once in a lifetime experience."
"You get to talk to and work with people you just don't run into on a day-to-day basis," he said. "Being young and still early in my career, I could ask, .How did you get where you are?' And that inspiration is almost as valuable as the training you receive."
Since then, USITT has held more USITT Presents and held Elite Training 2015 with 40 new trainees. To learn about future opportunities, check the USITT website under Education & Training.
Mr. Himsworth took advantage of the 2015 Annual Conference & Stage Expo being held in Cincy, and brought four of his Tech Crew students for a day at Stage Expo. The students -- Karthik Raturi, Maggie Dorger, Ana Fernandez, and Kemal Whitham -- "spent the entire day exploring new products, watching demonstrations, networking with theatre professionals, and meeting with various university theatre programs," Mr. Himsworth said.
"Students had the unique opportunity to witness many pieces of technology they otherwise would never have known existed," he added. "As they reflected on their experiences, they all remarked on the vastness of the available technology and the possibilities presented to them for future careers in theatre technology."
Mr. Himsworth said he sees USITT as his first resource for theatre tech training and information. "I'll probably continue to be a member from now on," he said.