News From
Sustaining Members
Alcons Audio: Shifting Into the Next Gear at Prolight+Sound
Dutch audio innovator Alcons Audio showed its latest pro-ribbon sound systems and demonstrated new evolutionary audio solutions at Prolight+Sound 2015 April 15 to 18 at Frankfurt, Germany.
The highlight of the show for the company was the presentation of no less than two, new pro-ribbon line-array systems. The LR28 larger-format line-array is the result of five years of development, with the last two years dedicated to beta-testing for the "proof of concept." This flagship system marks an important advance for the company within the concert touring and large-scale installation market.
The long awaited remote control for the Sentinel amplified loudspeaker controllers was another novelty in Frankfurt. ALControl is the Alcons-proprietary ALC control software protocol, to control and monitor multiple Sentinels. It can be run from both Mac and PC platforms.
For a glimpse of the future of professional sound reinforcement, visit www.alconsaudio.com.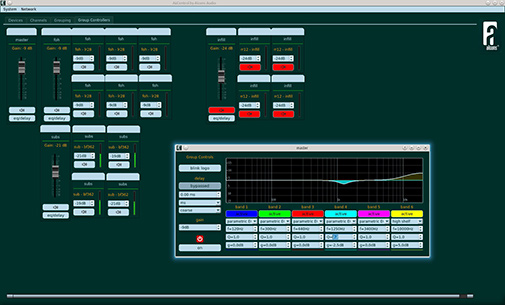 Chauvet Professional: Nexus Glows at Music and Arts Festival
Everything about the Aura Music and Arts Festival in Live Oak, Florida is fun, free spirited and ready to engage the senses in a myriad of ways. Held at the aptly named, 800-acre Spirit of the Suwannee Music Park, the weekend-long gathering is a feast for the eyes, with its art exhibits and stunning natural setting, as well as for the spirit, with more than 20 yoga and healing classes.
Tying this multi-dimensional festival together is a series of musical performances by groups like Disco Biscuits, moe, Papadosio and Main Squeeze, all of whom jammed beneath a pixel-mapped linear display of Nexus Aw 7x7 panels from Chauvet Professional. The warm, white LED panels were mounted on a beam that ran across the entire width of the stage.
Twelve Nexus Aw 7X7 panels were used. Powered by 49 warm white LEDs with an output of 9,400 lux at 5 meters, the Nexus Aw 7x7 also served as an audience blinder during the festival, helping to connect the crowd to the bands on stage. A collection of 12 COLORado 1-Tri Tour par style LED fixtures, also from Chauvet Professional, were part of the display. The designers used these RGB fixtures as front lights to add extra color to the downstage area.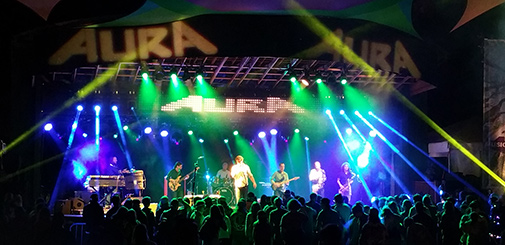 Theatre Projects: Helps Expand Corning Museum of Glass
Theatre Projects collaborated on the design of the new Amphitheater Hot Shop at the Corning Museum of Glass, which celebrated the grand opening of the 100,000-square-foot Contemporary Art and Design Wing recently.
From a simple beginning in 1951 as a two-room showcase with two employees and 2,000 pieces of artwork, the Corning Museum of Glass has expanded its physical footprint and cultural appeal into what is now a wide-reaching tourist attraction with buildings dotted across a sprawling 10-acre campus and a collection of more than 50,000 works of art.
Perhaps the most popular attraction is the Hot Glass Show, where artisans guide audiences through the process of glassblowing, transforming molten sand into beautiful works of art at 2,300 degrees Fahrenheit. The museum needed a new venue that would accommodate larger audiences; provide a more dynamic, personal, and intimate show; and allow the room to be transformed for live music, banquets, dinners, fundraisers, and other forms of entertainment.
Working with Thomas Phifer and Partners, Theatre Projects designed a space that met exactly those varied needs. The new Amphitheater Hot Shop—built in a renovated, historic ventilator building—features a custom-made retractable seating system and a full mezzanine that wraps 360 degrees around the room. The 500-seat theatre—now one of the world's largest facilities for glassblowing demonstrations—was designed to be robust enough to handle a near-constant stream of patrons, while having the comfort and sightlines to satisfy either a glassblowing demonstration or two-hour concert. Theatre Projects also provided consulting services for the Amphitheatre Hot Shop's seating and performance lighting systems.
IATSE: Board Certifies Quebec Local
The Quebec Labour Relations Board recently certified IATSE Local 56 as the bargaining agent for all theatre technicians employed by the Salle Pauline Julien.
Located in the heart of Collège Gérald-Godin in Sainte-Geneviève, the Salle Pauline-Julien is the window to French culture on Montreal's West Island. The new IATSE Local 56 members are looking forward to negotiating their first collective agreement.
The IATSE is an international union representing members employed in the stagecraft, motion picture and television production, and tradeshow industries throughout the United States, its territories, and Canada.
Nemetschek Vectorworks, Inc.: New Functionalities Added to Software
Nemetschek Vectorworks, Inc., recently announced new functionalities for its Vectorworks 2015 line of design software including the BIM Collaboration Format (BCF) Importer and the Simplified Geometry Model View Definition (MVD). These two features are part of Service Pack 3, which also includes other improvements.
The new BCF Importer allows users to read BCF files from collaborators to view project model issues directly within the context of the Vectorworks model. Now users can review and resolve issues that may require changes to the architectural model without having to switch between Vectorworks and another application.
The Industry Foundation Classes (IFC) schema is evolving to accommodate many different user configurations and levels of detail. To meet the expanding needs of users, Vectorworks software offers an additional IFC export option for defining the model view. The Simplified Geometry MVD allows Vectorworks users to export IFC files optimized for other software programs that can only import a limited set of simple geometry types.
A new option called "Export Walls/Slabs by components" has been added to the Export IFC Project dialog box. It optimizes the export of IFC files for use by estimating software such as BIM2COST. These improvements increase interoperability between BIM software applications, as well as enhance communication among design disciplines.
For more information, visit www.vectorworks.net.
Mega Systems: Introduce new Outshine Products
Two new Mega-Lite LED fixtures were recently released by Mega Systems—the Outshine WW100 and the Outshine T100.
The Outshine WW100, a custom U.S. made, outdoor rated warm white LED fixture, is equipped with a 100-watt warm white single-source point LED, creating a smooth and powerful wash.
The Outshine T100, an outdoor rated, color-changing LED fixture, is equipped with a 100-watt RGB single-source point LED, creating a smooth and powerful wash.
Visit mega-lite.com to learn more about these products.