News & Notices
No Place Like Prague for USA Exhibit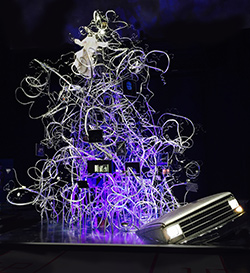 USITT Prague Quadrennial 2015 USA, entitled The Vortex of Our Dreams, will be housed in the former nave of St. Anne's Church near the foot of Karlov Most (the St. Charles Bridge) in the heart of the Old Town of Prague June 18 to 28.
Designed by award-winning Broadway designer Klara Zieglerova, the exhibit is a "cloud" in an inverted tornado shape with a central spiral staircase. Drawings (actual and digital), production photos, models, videos, objects, iPads, sound devices, and soundscapes will be nested within the cloud. The structure, built by students at Indiana University under the supervision of technical director Paul Brunner, will be 14 feet square and 18 feet high.
Over a period of three months, curators Tony Walton, Carrie Robbins, Kevin Rigdon, and Veronica Vorel had the difficult job of culling 18 finalists from 87 entries representing a variety of theatre companies and universities across the country. This year, organizers opted for an online catalogue instead of a printed version; all 87 entries will be included in the web catalogue to be linked on the USITT website.
PQ '15 visitors from the U.S. will have the opportunity to view exhibitions in eight public spaces including Bethlehem Chapel, The National Theatre, and Kafka's house. The theatre architecture exhibits were eliminated by PQ organizers. Instead, many new features will be available.
The gothic St. Anne's Church was built in 1361 and is included in the UNESCO World Heritage site of the City Center. It housed the PQ '11 architecture exhibition and symposia. The USITT/USA national exhibition will share St. Anne's with exhibitions from Belarus, Romania, Sweden, Peru, Hungary, Slovakia, Croatia, Japan, Lebanon, and Bulgaria.
A new collaboration between the USA PQ organizers and the American Embassy has resulted in the use of the embassy gardens and grounds for talks and receptions related to USA PQ activities. USITT will also sponsor a live blog with news and information that will update U.S. visitors on a daily basis.
To register for PQ, visit www.pq.cz/en/practical-information/accreditation. The advanced registration deadline is May 31.