Conference & Stage Expo
USITT 2015 Distinguished Achievers Inspire in Conversation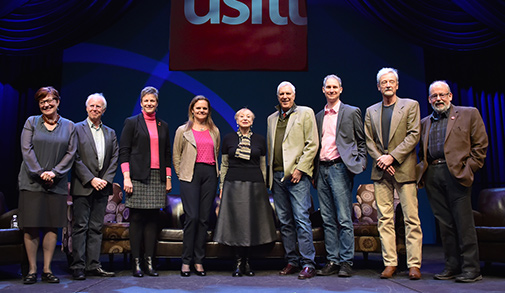 USITT's annual Distinguished Achievement Award Winners in Conversation panel is becoming one of its most popular Conference sessions. Where else can you hear six renowned theatre professionals discuss their work frankly, intimately, and often hilariously, with a few hundred friends and admirers?
In 2015, five Distinguished Achievement winners were celebrated, and co-moderators Kevin Rigdon and Michael Mehler introduced a sixth, lighting designer Ken Billington, and presented him with the first USITT Wally Russell Mentor Award.
Then the moderators guided a spirited and inspiring discussion of firsts, failures, and advice.
Here are some quotes that may have escaped the Twitterverse. Recordings of this and many other sessions will be available soon – check the website!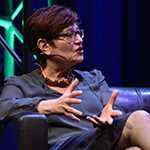 "I'm a theatre foundling. I saw my first Broadway show in tech, and that's an odd sort of introduction to theatre. I have so much less education than my students. And I'm still playing a game of catch-up with Chekhov."
- Projection Designer & Yale Prof. Wendall Harrington,
2015 Distinguished Achievement Award in Education.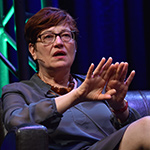 "I just wanted to play on a team, and I had never realized that that's what I was looking for. I want to be that invisible thing that makes that 10 seconds more exciting."
- Wendall Harrington.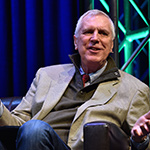 "I did my first lighting design in fourth grade. They thought I was great. They applauded when I did a blackout."
- Lighting designer Ken Billington, 2015 Wally Russell Mentor Award.
"I learned a long time ago that the worst thing that happens when you screw up is they fire you. They don't take you out back and shoot you. So you just go and you do something else."
- Ken Billington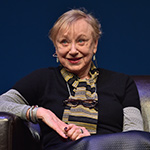 "In the days after World War II, I had an aunt who took me to the theatre, and I was so excited by everything I saw, I thought, 'Wouldn't it be wonderful to be an actress?' So that was the first idea. It was a terrible idea."
- Jane Greenwood, 2015 Distinguished Achievement Award in Costume Design.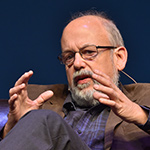 "So Ming Cho Lee's studio offered me a job, they said, 'We'll pay you $90 a week and you start next week.' Well, I was still in school … So I asked my teachers what to do and they said, 'You've got nothing more to learn, and you don't learn it in school anyway.'"
- Douglas W. Schmidt, 2015 Distinguished Achievement Award in Scene Design
"It's important to feed the machine of your craft, and the way to do that is to work on things that excite you."
- Wendall Harrington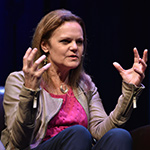 "That morning we walked in the building and smelled smoke. There was a fire going on and the fire department couldn't find it … If you have to think of a worst-case scenario, a fire in a theatre is one of them."
- Teresa Eyring, 2015 Distinguished Achievement Award, Management.
"Having respect for people you're working with no matter where they sit in an organization is key, and I've had to learn that from failing at it."
- Teresa Eyring.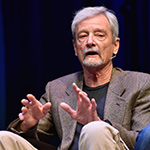 "My disasters are usually related to my trying to be helpful, and fortunately nobody got hurt."
- Loren Schreiber, 2015 Distinguished Achievement Award in Technical Production.
"Students, don't label yourself … You might be a technical director, because we specialize in generality. Don't narrow your focus on what you think you want to do now, because you're probably not old enough to know."
- Loren Schreiber.
"My advice is, when you do something, concentrate on it really hard. This idea of doing four things at once is overrated."
- Jane Greenwood.
"Many times after doing a rough layout, I will force myself to say, 'I know this works, but I challenge myself to do something different.'"
- Ken Billington
"Costumes, clothes. It's all just really clothes."
- Jane Greenwood.
"I say if you get 14 seconds of awe, that's a good show."
- Wendall Harrington.