News & Notices
Conference Activities Evidence USITT Embraces Diversity Mission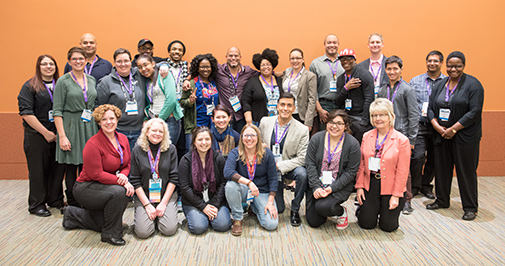 At the opening of the Cincinnati 2015 Conference & Stage Expo, President Lea Asbell-Swanger noted this year marks "20 years of USITT's commitment to human issues and diversity."
She then presented the 2015 Joel E. Rubin Founders Award to Andi Lyons, a leader in the Institute's inclusion efforts, who said, "In the 25 or 30 years I've been involved in USITT, I've seen a remarkable change in diversity and openness."
The Conference that unfolded proved they weren't just talking the talk. The event had a definite vibe of unity, celebrating uniqueness, and welcoming all.
"The diversity synergy was unbelievable," Management Commissioner David "D-Stew" Stewart wrote.
Keynote speaker Terrence Spivey, artistic director of the nation's oldest black theatre, Karamu House, gave an emotional address calling for arts organizations to be activists in removing roadblocks and offering opportunities to students of color. But he didn't go home to Cleveland after his speech. He stayed for the rest of the Conference participating in diversity sessions and spending time with students.
Among the many students were 12 Gateway Program participants from underrepresented populations who participated in the 2015 Conference & Stage Expo through a program launched the year before to honor the late Tayneshia Jefferson, a beloved mentor in USITT's Stage Management Mentoring Project.
"We all lost a friend. No, scratch that, a sister," Mr. Stewart said. "Her passing sent shock waves through the industry and, in particular, USITT. Kasey Allee-Foreman and I were tasked with creating a sustainable program with the funds that came in in Tay's memory. Out of that, the Gateway Program was created."
Last year, Gateway brought three students to the Conference and paired them with three professional mentors of similar backgrounds and interests. This year, it grew to 12, with two receiving Tayneshia Jefferson Mentorships; four additional students receiving full Mentorships that included travel, housing, membership and Conference registration; and six students in partnered Mentorships, which split the costs between the Gateway Program and each student's organization.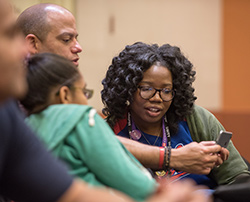 At the same time that Gateway was created, the Institute's Diversity Initiative and Diversity Committee were approved and funded by the board. The Committee supports the Gateway Program, liaises with partner organizations in their diversity and inclusion efforts, and supports the existing diversity forums that USITT has maintained for 20 years: Women in Theatre, People of Color Networking Project, Queer Nation. and the Human Issues Caucus.
On Opening Day, the People of Color Networking Project held a meeting in a room that suddenly became far too small. Kasey Allee-Foreman found a bigger space, and 80 people happily relocated.
The next day, the same thing happened with the Queer Nation Roundtable; it drew too many to fit around a table and moved to bigger quarters. "When we started this group about 15 years ago, there were eight of us," Andi Lyons said. "Since then, USITT has changed for the better. We're bigger, and we're friendlier."
The next day, the Women in Theatre Roundtable "blew the doors out with 250 in attendance," as Mr. Stewart put it. Women in Theatre Networking Project celebrated its 20th anniversary this year.
In other evidence that unity is spreading: The USITT bookstore ran out of "Celebrate Diversity" ribbons. Disney pledged $5,000 to the USITT Diversity Initiative. Several Commissions have named a Vice Commissioner for Diversity to promote diversity and inclusion efforts within their constituency. They are Nicole Queenan, Management; Sarah Pickett, Sound; and Jim Streeter, Lighting.
All in all, it became clear in Cincinnati that USITT is becoming the inclusive organization it aspires to be. Even with all his leadership efforts, Mr. Stewart said he was as pleasantly surprised as anybody.
"I never intended to be part of a diversity movement," he said. "But I am here now, in the movement, in the wave that is tangible, and I can only bask in the sheer amount of energy that came out of this week."
Members of the USITT Diversity Committee include Kasey Allee-Foreman, Chair and Co-Chair of Women in Theatre; Lea Asbell-Swanger; Madilynn Garcia; David Grindle; Andi Lyons, Chair of the Human Issues Caucus and Queer Nation; Michael Mehler; Christopher Morris; Jesse Portillo; Carolyn Satter; Tina Shackleford, Co-chair of Women in Theatre; and David Stewart, Chair of People of Color Networking.