News & Notices
Announce Find-A-Fellow Winners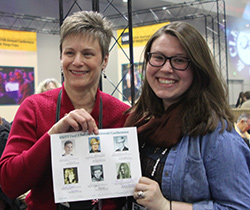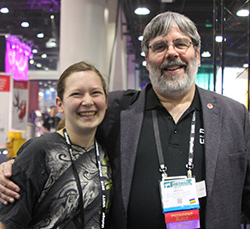 The Cincinnati 2015 Conference & Stage Expo is now in the rear view mirror, but it will be remembered as one of the more successful events the Institute has produced.
The Fellows took an active part in many aspects of the Conference including the Network Nexus, Early Career Member Mentoring, and the fourth edition of the Find A Fellow Contest. The FAF Contest was designed to bring together the newest members with the Fellows. Once again that was accomplished.
Henry Tharp took on the role as "headmaster" for the event and announced the two winners: Cailin Lindsay from James Mason University and Ciara Zang from University of Nevada Las Vegas (UNLV). Each Student Member will be awarded a complimentary Conference Registration and Student Membership for 2016 and 2017.
In an e-mail, Ms Linday wrote, "Thank you so much for the wonderful opportunity. I got to meet some wonderful Fellows and felt much more at home at the Conference by the time I was done. I can't wait to see what Salt Lake City has in store."
"Thank you for having the contest," Ms. Zang wrote. "I'm definitely going (to the Conference) for the next two years."
Student Members Chelsea Janke, Rebecca McDowell, Vanessa Quigly, Dabney Rauh and Rachael Williams also turned in fully completed FAF contest forms.