News From
Contributing Members
City Theatrical: Lighting Up USITT
At Stage Expo recently, City Theatrical decided to dress up its booth with a bit of QolorFLEX LED Tape and QolorPoint battery powered LED uplighters.
Designers are adding nooks and setbacks into their designs specifically to hold LED tape, which can provide depth and accent to designs.
City Theatrical's glowing lanyards use a D4 Neo Dimmer and are wireless, cued with the rest of the show. In fact, all the scenic elements in the show changed color on cue since they were assigned the same DMX addresses and were cued the same.
The Ben Nye Makeup team a was given a QolorPoint battery powered LED uplighter to light their banner, which changed color along with City Theatrical's booth.
There were five separate booths operating with SHoW DMX SHoW Baby wireless DMX around Stage Expo, all running perfectly on different SHoW IDS.
For more information visit City Theatrical's "How to Light a Trade Show Booth."
ETC: A Six-Year Romance with Glee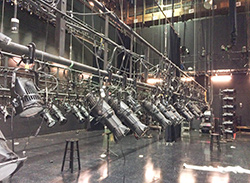 On Stage 16 at Paramount Studios in Hollywood, it feels like the last day of school. After six seasons, Glee is ending and the seniors of McKinley High School are cleaning out their lockers and moving on. Throughout the run, ETC products have helped light the stage and the sets.
From the beginning, ETC Source Four fixtures were used on the main performance stage and as key light in the high school settings. Four ETC Sensor3 48-way rolling racks were used for the high school sets on adjacent Stage 15.
The main auditorium stage had six electrics on chain hoists with 126 Source Four fixtures, 80 par cans and 32 ETC Selador Classic Vivid-R luminaires. The LED fixtures on the upstage electric were the perfect instrument for lighting backdrops and Mylar slash curtains in the big production numbers. The other five stages also used Source Four fixtures controlled through an ETCNomad lighting controller, supplemented with Ion and Eos lighting desks for the times when performances happen off the main stage.
To learn more about ETC and its products, visit www.etcconnect.com.
Meyer Sound: LYON Expands Touring Business, Asian Team
DBS Audio Systems, Inc. of Coatesville, Penn. has invested in a Meyer Sound LYON linear sound reinforcement system before a busy summer concert season.
"LYON has won accolades from major artists and respected engineers and will give us an excellent position in the touring market," said Dave Brotman, DBS president. "The time is right for the upgrade, and we're excited to be the first rental company in the tri-state area to offer the most advanced loudspeaker technology available."
The system comprises 16 LYON-M main and eight LYON-W wide-coverage line array loudspeakers, in addition to six 1100-LFC low-frequency control elements. A Galileo Callisto loudspeaker management system with Galileo Callisto 616 array processors provides system drive and alignment. The system is already slated to serve the 14,000-capacity Mann Center for the Performing Arts, summer home of the Philadelphia Orchestra and the host of a full schedule of pop, jazz, and rock concerts. When not in residence, the system will support a range of summer festivals and corporate events.
To accelerate the expansion of its Asia-Pacific presence, Meyer Sound has hired John Zhang as sales manager for China and Korea, and Tim Boot as business development manager, Asia-Pacific.
Working closely with the regional sales and support network, they will drive Meyer Sound's Asian growth, representing the full range of Meyer Sound solutions from the groundbreaking Constellation acoustic system to the latest sound reinforcement systems like LEO and LYON. They will work to expand a user base that has included the Chimelong Ocean Kingdom in Zhuhai, the Beijing Auto Show, and Alpensia Hall in South Korea.
As the newest member of the Meyer Sound sales team, Mr. Zhang will help nurture the distribution network and strengthen customer support capabilities through the company's Beijing office. Bilingual in English and Mandarin, he brings 15 years of sales experience in the global AV industry, including prior high-level positions with Shanghai Media Group, Micronas (USA), Inc., and Philips Electronics.
A 25-year veteran in audio, video, and acoustical design, Mr. Boot will be responsible for connecting Meyer Sound technology with architects, AV consultants, sound designers, systems integrators, and acousticians throughout the region.
Mr, Zhang can be reached at jzhang@meyersound.com and Mr. Boot at tboot@meyersound.com.