Conference & Stage Expo
LRLR Raise $14,000 for BTS in Cincinnati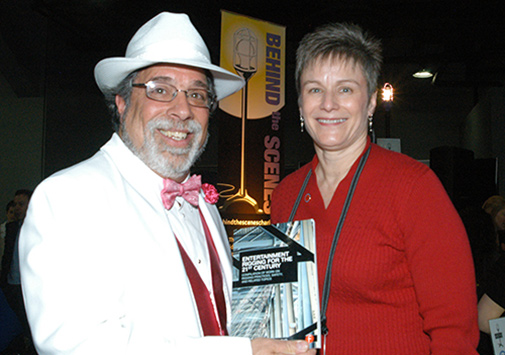 The Long Reach Long Riders (LRLR) celebrated their 12th ride with a raffle and live auction to benefit Behind the Scenes during the USITT Annual Conference & Stage Expo in Cincinnati in March. Sales of raffle tickets, some key donations, and BTS and LRLR-branded swag raised just over $14,000 for the charity.
The LRLR ride starts in Nashville, Tennessee on Sunday, May 31. Sponsor a rider today at www.behindthescenescharity.org/lrlr.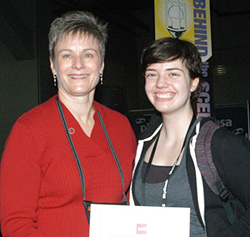 Festivities in Cincinnati started off with the popular kazoo parade led by Bill Sapsis and many of the LRLR along with previous BTS grant recipient Michael Maag. The PLASA Foundation Board honored Intelligent Lighting Creations for its commitment to BTS and for its creative fundraising.
Pennsylvania State University USITT Chapter members presented proceeds from their ongoing fundraising activities, and Pledge-a-Product partners Rosco and ETC presented checks from the sales of Roscolux 359 and the iRFR and aRFR apps respectively. A.C.T Lighting became the newest Pledge-a-Product participant announcing it will donate a portion of the profits from the new dot2 series of Lighting Control Solutions from MA Lighting.
Rosco Laboratories presented its seventh annual royalty check, this year for $3,390, from the sales of Roscolux 359 Medium Violet to BTS. This brings the total donated to date to $18,348.
Bids were lively during the auction, particularly for Entertainment Rigging for the 21st Century donated by Mr. Sapsis and autographed by all the authors (one of only two such copies in existence). After a frenzied bidding war, USITT President Lea Asbell-Swanger walked off with the book. Additional auction items were donated by Brad Schiller, IATSE Local One, and Shan and Trish Ayers.
Five minutes before the raffle started Mr. Sapsis announced he would donate up to $1,000 to match the amount raised in last minute ticket sales. There was a flurry of activity and he had to pay out the full amount. The winners and their prizes are:
Andy Gutshall - Grand Prize, Vectorworks Spotlight with Renderworks
Krystal Kennel – BTS Ghostlight from Altman Rentals
Adam Marshall – GaffGun and CoreLok Tape from BMI Supply and Production Advantage
Chris Patton – GoPro from InterAmerica Stage
Ken Tilson – iPad mini from iWeiss Theatrical Solutions
Bradley Chelberg – ETC Source 4 mini portable from Musson Theatrical
Larry Schoeneman – PN 700-7501 Cognito PC/Uno Bundle from Pathway Connectivity Solutions
Robert Edmonson – ProPlus Rope Access Harness from Sapsis Rigging
Katie Hughes – USITT 2016 Full Conference Registration from USITT
Dan Vilter – $250 Gift Certificate from Vincent Lighting Systems
For more information about Behind the Scenes, to donate, or to apply for a grant, visit www.behindthescenescharity.org. For more information about the Long Reach Long Riders visit www.lrlr.org.