News & Notices
Q2Q Comics Author Gets Hero's Welcome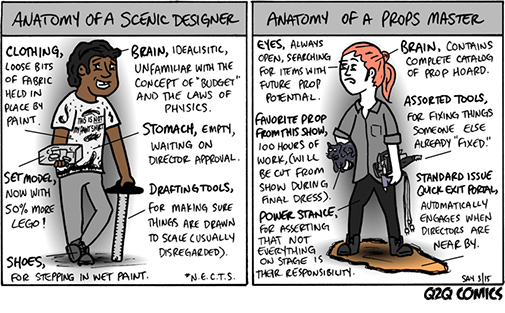 USITT's newest member author, cartoonist Steve Younkins, was a big draw in Cincinnati.
His "book-signing" of panels of his theatre tech webcomic, Q2Q Comics, on Friday, March 20, attracted over 350 fans and went a half hour over its one-hour time slot.
The Conference bookstore sold dozens of Q2Q T-shirts and over 400 prints of Mr. Younkins' popular "Anatomy of" drawings of a sound designer, lighting designer, costume designer, tech director, and stage manager – with many people thanking him for capturing them so perfectly.
"His comic is pure entertainment, geared toward a group of people that doesn't often get praise, and it helps us deal with things like tricky actors," said student member Connor Lumpkin of the University of Kansas.
"It allows crew members to connect in a way that's humorous to things that aren't that funny when they are happening," added fellow U of K student Kelly Simons.
Mr. Younkins, a sound designer, started Q2Q a year ago to rave reviews from the theatre tech community. At his print-signing, the cartoonist graciously autographed as many as five items for some fans, and gave out stickers that said, "Tech Week is Coming" and "Thank You, Five."
He promised to unveil two new "Anatomy of" panels, a scene designer and a props master; on April 1, he did. The scenic designer's anatomy includes "Stomach, empty, waiting on director approval," and the props master holds "assorted tools, for fixing things someone else already 'fixed.'"
Mr. Younkins humbly called the long line "ridiculous," and promised to be at the 2016 Annual Conference & Stage Expo in Salt Lake City, Utah – hopefully with an actual book!
His admirers urged him to keep the thrice-weekly webcomics coming. "You've helped me though some really stressful times," said Mike Vanni, a student at the University of Alaska.
Thanks to his huge popularity with students, many teachers appreciate him for taking the edge off Tech Week and making their jobs a little easier.
"We have his comics on every bulletin board in our theatre because there seems to be one for every situation you encounter," said Laura Love, a costume designer at the Metropolitan State University of Denver.
Alessia Carpoca, head of theatrical design and tech at the University of Montana, said she uses Q2Q Comics in her Intro to Theatre Tech classes.
"What he's doing is making theatre tech cool," she said. "It's always been that the actors are so cool and the tech people are geeks, but now – not so much!"
She made a point of buying a "Tech Week is Coming!" T-shirt. "I like the ominous feeling it conveys," she said.