The Last Word:
Everybody Out of the Building!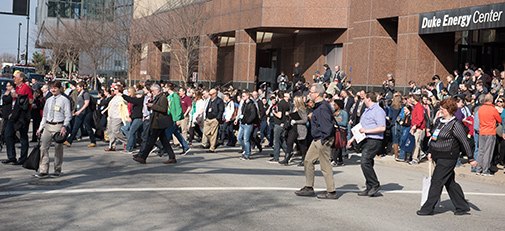 This year's Annual Conference & Stage Expo -- another amazing event -- was full of great sessions, seminars, and Stage Expo showcases, as well as reconnecting with friends, mentors, and peers.
What I wasn't ready for was the unplanned and unexpected fire alarm that went off Friday morning that turned into a USITT "session" on management I didn't expect to attend.
The strobes flashed, public address (PA) system gave directions, and everyone had puzzled looks that seemed to say, " What's going on here?" or "Clearly this is a false alarm, so let's not leave."
I was on the Stage Expo floor, manning the San Diego State University booth at the time of the incident. With the strobes flashing, I asked a visitor to "hold on so we can listen to the announcement" (if there was going to be one). What we did get was a very faint, barely audible, prerecorded speech over the in-house system. I still have no idea what was being said, but I did hear "determined an emergency." That was enough for me! We needed to get out.
I told everyone within shouting distance, "We should exit immediately." People, especially exhibitors, didn't seem to want to listen and stayed put, possibly out of fear of leaving their expensive swag unattended.
The next step was to leave the building at the nearest exit. At this point, I still saw no one from the facility trying to help or give any direction as to exactly where to go once we left the building. We all congregated on the sidewalk, trying hard not to be pushed into the oncoming traffic as thousands of people behind me started to quickly exit.
It was what happened next that made me feel like all would be ok.
I saw Executive Director David Grindle, walkie-talkie in hand, on the steps of the convention center taking control of the situation, something that should have been done by the facilities management and staff.
True leadership emerged from USITT staff in a matter of moments. We were told to cross the street and head to the open lot that had been deemed an evacuation location for just this purpose. We went and waited for the all clear. I didn't see any police officers or convention staff helping. The focus was on David and Scott Kincaid, one of last year's SMMP students. (Many others from the Institute were on radios and being helpful!)
Knowing David as I do, I knew he was already crafting a plan to get everyone back in the building once the all clear was given. I saw Scott, and asked if I could help on the re-entry since having had some experience with crowd control running a 20,000- seat concert venue in San Diego for years.
We posted ourselves at certain doors and tried our best to separate exhibitors and attendees, allowing exhibitors to get back on the Expo floor and secure their goods before the thousands of attendees descended upon them. Still there did not seem to be any convention center staff around to help.
David did what he does best; with game face on he closed all the doors to the Expo floor, opening only one set for exhibitors. Grabbing the closest microphone, he gave directions in a clear, concise, and loud manner. Again I looked on with great admiration knowing David was in charge. I wasn't disappointed.
We were back in the convention center within about 30 minutes and back to business as usual. Whew!
What did I end up learning? What could I have done better to prepare myself to evacuate a building or venue in an age of potential emergencies?
Here is my list for starters:
I will familiarize myself with the surrounding areas around the building I am going into and identify a good spot to head in case of evacuation.
I will take a quick look around the venue to determine the location of fire extinguishers and fire alarm pulls.
If I am with a group, I will identify a place outside, away from the building, where we can rendezvous in case we get separated. I will let my group know the location and have contact numbers in my phone for all members of my group.
If evacuating, I will cross away from the building. I won't stand on the sidewalk near glass windows and doors.
If evacuating, I will make a better concerted effort to look for anyone disabled or elderly and attempt to help them exit safely.
While in the venue, I will look more closely at emergency exits and escape routes such as stairwells and backstage exits.
I will, under no circumstances, use an elevator during an evacuation. While this seems obvious, it was a good reminder for me.
When someone or something (strobe, PA system, person yelling, etc.) tells me to exit, I will GO! I won't wait and wonder if it's a false alarm.
If I am working backstage or in a stage manager situation, I will make sure I know how to get people off stage and out of the building safely and efficiently. I will also find out where the nearest fire extinguisher is located backstage.
I have a responsibility as a faculty production manager to teach safety to my students. The next generation must be taught about safety protocols and procedures. This is a top priority as I plan to immediately go back to San Diego State and reexamine my current practices and procedures manual for my theatre. I hope others will do the same.
Interestingly enough this year, I actually listened to the safety speech on the airplane a little more closely on the way home.
The nearest exits were behind me, my seatbelt always stayed on, and, yes, I will put my own mask on first before helping others.
Mr. Sheehan is on the faculty at San Diego State University where he leads the management program.