News From
Sustaining Members
JLG Industries: New Sustaining Member, Exhibitor
We welcome JLG Industries as a new Sustaining member and a new exhibitor at Stage Expo. The company, specializing in lift and access equipment -- especially aerial lifts, can be found at www.jlg.com.
University of Virginia: Upgrades Membership
USITT appreciates the increased level of support from the University of Virginia which recently upgraded to Sustaining membership. UVa is also a Stage Expo exhibitor.
Turning Star, Inc.: Returns as Sustaining Member
Turning Star, Inc., based in Brooklyn, New York, has returned to the Institute as a Sustaining member. The company manufactures a complete line of flame retardants for use with fabrics, wood, paper, and paint. Find out more at www.turningstar.com
On Location Lighting Systems, Inc.: Upgrades Membersip,To Exhibit
On Location Lighting Systems, Inc., based in Cincinnati, has upgraded its support of USITT to that of a Sustaining member. The company, which provides a broad range of audio, lighting, staging, roofing, and more, will exhibit at Stage Expo. Read more at their website, www.loudandclear.com.
ENTTEC: Helps Transform Melbourne Airport Facade
Melbourne, Australia companies Mint Lighting Design and ENTTEC have transformed the forecourt and main terminal façade at Melbourne Airport with a dynamic lighting installation that provides ambience and entertainment and welcomes travelers to the world's most loveable and friendliest city.
The landmark project covers 12 individual sites programmed as one to create an intricate, synchronized light show that boasts more than 40,000 pixels and 57 universes to control and schedule them. In total, 2,140 individual products were designed and installed.
Specialized programming has been designed to celebrate important days in the multicultural calendar, including Australia Day, Diwali, Chinese New Year, and Christmas. The installation can be re-programmed to mark other events and significant milestones as required.
ENTTEC founder and General Manager Nicolas Moreau said it is among the most sophisticated ENTTEC has built in its 15 years of worldwide installations.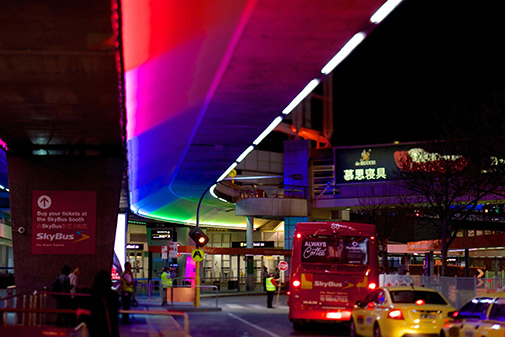 Theatre Projects: Bicknell Center Beautiful, Cost Effective
Those attending the December 7 opening of the Bicknell Family Center for the Arts at Pittsburg State University in Kansas may have been surprised to know—after looking over the stunning glass edifice, setting foot in the beautiful wood-trimmed auditorium, and exploring its numerous versatile facilities —that the entire building only cost $33 million.
Cost-effective planning and design by Theatre Projects went a long way in creating the first performing arts facility on the Pittsburg State University campus since 1978. The long-overdue building is a collaboration between Theatre Projects, ACI/Boland (executive architect), and William Rawn Associates (design architect).
At the heart of the 96,000 square foot center is the Linda & Lee Scott Performance Hall, a 1,100-seat, multi-purpose theatre. Down the hall sits the Bicknell's courtyard theatre, a flexible and intimate 250-seat space, which will serve as the main stage for the university's drama department.
In an effort to keep costs down, the facility was built in large part with pre-cast concrete panels. The Bicknell Center's other facilities includes a scene shop, costume shop, dressing rooms, and technical rooms plus a 3,000 square foot multi-purpose rehearsal room that doubles as a warm-up room for waiting performers. The center also features an art gallery, donor display room, donor lounge for private receptions, and a workshop for artists-in-residence.
Stagecraft Institute of Las Vegas: Embraces Challenges for 2015
As a work in progress, Stagecraft Institute of Las Vegas (SILV) always looks for new ways to challenge students and staff. SILV 2015 is all about new challenges.
In addition to a continuing commitment with Vectorworks and ESP Vision teaching computer programming sessions, the thread they build connecting Week 1 through Week 8 will have some dynamic new dimensions.
Beginning with SILV 2015, Weeks 7 and 8 are being expanded to become The Block - Weeks 6 through 8 (July 12 - August 1). As a very broad overview, Week 6 will focus on the multi-million dollar full gear load-in and moving lights programming, Week 7 will be all new Media for Live Entertainment, and Week 8 will ratcheted up to be Rock 'n Roll programming concluding with Tech Showcase and Job Fair, Seal Exam, and strike.

Check out all of the offerings of SILV 2015 at stagecraftsinstitute.com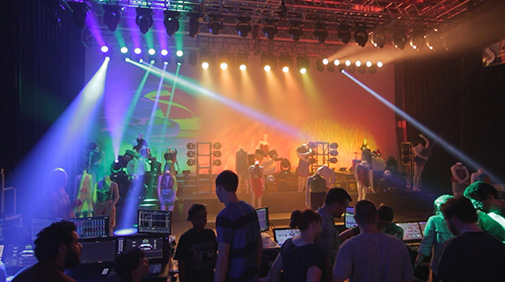 RC4 Wireless: Provides Magic for the National Theatre Production
The Curious Incident of the Dog in the Night-Time continues to get rave reviews as it settles into its new home at the Gielgud Theatre in London's West End lighted by RC4 Wireless products.
Many of the technical lighting achievements are done using RC4Magic wireless DMX and would not have been possible without tiny RC4 dimmers.
The National Theatre was an earlier adopter of wireless dmx and dimming, and has used multiple generations of RC4 Wireless products. Nearly every show produced by the Royal National Theatre has incorporated RC4Magic devices. Additionally, each theatre space operates its own set of unique digital IDs to prevent interference from other systems. Only the RC4Magic ID system provides customer-specific data security while ensuring equipment can be moved from space to space as needed.
Nemetschek Vectorworks, Inc.: Announces Spanish-Language Release
Nemetschek Vectorworks, Inc. released its Spanish-language Vectorworks 2015 software November 24. It is part of a worldwide rollout that included earlier European-language releases and will continues into 2015 with additional localizations in Japanese and Chinese.
The Vectorworks line of award-winning software products includes: Designer, Architect, Landmark, Spotlight, Fundamentals and Renderworks. The new software contains more than 100 updates and new features in the areas of architecture, Building Information Modeling (BIM), urban planning, and entertainment design. In previous versions, the power of 64-bit was only available in the platform's photorealistic rendering engine, Renderworks, but has now been integrated throughout the entire Vectorworks 2015 product line, providing designers with the ability to handle larger projects, as well as better performance and stability. In addition, designers will observe a revolutionary graphical experience from advances made to the Vectorworks Graphics Module (VGM), which was introduced last year.
Visit www.vectorworks.net/espanol for Spanish-language resources and www.vectorworks.net/international to find a local distributor. Additional information about Vectorworks 2015 is available at www.vectorworks2015.net.
GLP: X4 Plays Major Role in 'Fall Of The Wall' s Anniversary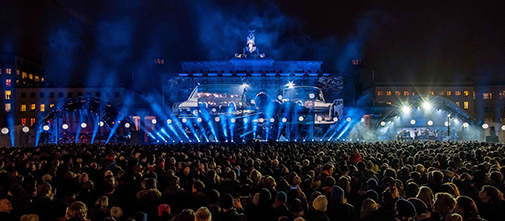 To celebrate 25 years of the Berlin Wall being torn down, a massive day of festivities took place on November 9, culminating in a major ceremony in front of the iconic Brandenburg Gate highlighted by the release of some 8,000 helium balloons being released into the night sky over Germany's capital.
GLP's frontline X4 series impression LED automated heads helped light up the night sky with a real tour de force for the central event — courtesy of the dynamic lightshow designed by Björn Hermann. PRG supplied all the lighting for the main event.
Conceptually, Mr. Hermann said he wanted to make the Brandenburg Gate itself the star of the production and create a three-dimensional effect using his lighting armoury to build multiple layers. He needed to not only illuminate the Gate from the front, back or sides but by building five low weight 13-meter high freestanding towers, to be able to shoot right through the Gate itself. This feature represented the sunrise behind the Gate in the symbolic opening of the Wall (by moving the LED walls) as tens of thousands of guests populated the square in front of the Gate, the symbol of the division of Germany, to hear some of the political champions of reunification and witness a dynamic stage show.
Mr. Hermann has been a long-time user of GLP's evolving impression LED platform, and for this show he sourced more than 150 fixtures divided into the workhorse X4, the smaller X4 S and newly-launched super-sized X4 XL.