News & Notices
15 Schools Approved for Rigging Inspections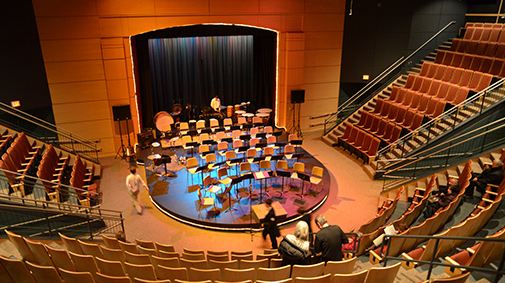 USITT has approved free stage rigging inspections and safety training for 15 schools -- the most since the Rigging Safety Initiative started in 2011. The largest number of applications from schools – over 50 -- were considered for the fall term.
Many of the schools that applied said their stage rigging had never been inspected. Initiative organizers used a triage system, moving schools with the biggest safety concerns higher on the list for assistance.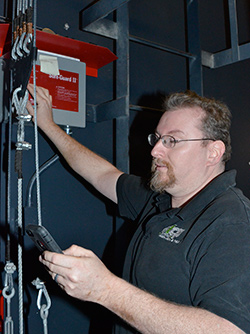 One of the 15 school stages approved this term described an old canvas scrim tearing across the entire width and falling to the floor. "Fortunately, nobody was present," the school's fine arts coordinator wrote.
The new schools approved for the fall 2014 round of assistance are:
Sauquoit Valley High School in Sauquoit, New York
Butte Central Catholic High School in Butte, Montana
Wahconah Regional High School in Dalton, Massachusetts
Notre Dame Regional High School in Cape Girardeau, Missouri
Tokay High School in Lodi, California
Three schools in Wisconsin – Meyer Middle School and River Falls High School in River Falls and James Madison Memorial High School in Madison.
Five Texas schools – William P. Clements High School and Stephen F. Austin High School in Sugarland, Belton High School in Belton, Cypress Springs High School in Cypress, and Elkins High School in Missouri City.
A total of 31 schools are on the waiting list for future funding. Executive Director David Grindle said those that applied but weren't approved will be reconsidered at each round of funding. USITT accepts applications for the $1,000 inspections and safety training twice a year, in spring and fall. It approves as many as it can fund each cycle.
Support from J. R. Clancy, Inc. of Syracuse helped launch the Rigging Safety Initiative four years ago to instill best stage safety practices at the high school level.
The RSI provides schools with a free inspection by one of USITT's participating certified inspectors and four hours of safety training on their rigging system for up to eight people.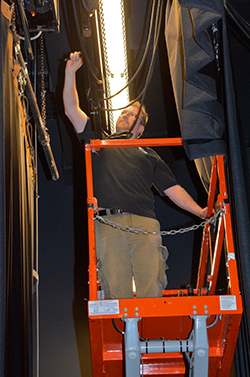 Besides J.R. Clancy, three other rigging companies – ETC, H&H Specialties, and Shepard Exposition Services – and many individuals have donated money to fund the program. With the Rigging Safety Initiative growing in visibility and more schools applying, USITT will need more donations to serve them all. Donate here.
Gregory Dana, technical director for the Marblehead School District in Marblehead, Massachusetts, said he was able to have the middle school performing arts center inspected last year and the district's high school stage inspected last month through the RSI.
"Thank you so much for providing the funds to allow these inspections to occur," Mr. Dana said. "The deficient items from the performing arts center inspection were attended to this fall. Ethan Gilson of ALPS in Randolph, Massachusetts, inspected the high school stage on December 8. I hope that whatever we find in Ethan's report will be dealt with promptly as well."
USITT's goal is to eventually inspect and train every school stage that applies. USITT's ETCP-certified rigging partners around the country provide the service for $1,000 or less, paid by the program. To learn more about the RSI or to apply for the next round of assistance this spring, visit www.usitt.org/rigsafe.