News From
Contributing Members
Meyer Sound: Minnesota College Arena Upgrade Serves Wide Range of Uses
From hockey games to Nobel Conferences, Meyer Sound IntelligentDC gives Gustavus Adolphus College Arena in Minnesota a sonic advantage. The venue is fully equipped to provide exceptional audio coverage for every function in its 1,500-capacity Lund Arena.
The remotely powered system featuring IntelligentDC combines the performance advantages of self-powered loudspeakers with the installation efficiency of Class 2 wiring. A single, five-conductor cable carries remote power and balanced audio signal to the loudspeakers from a rack-mount power supply and signal distribution unit. In the U.S. and many other countries, electric conduit is not required.
The Meyer Sound models chosen for the audio upgrade include 19 UPM-1XP loudspeakers spaced over the ice floor, 20 UPJunior-XP VariO loudspeakers covering the spectator stands, and 16 UMS-1XP subwoofers for full-range musical punch, while eight UP-4XP loudspeakers cover an adjacent hallway. Handling system drive, optimization, and zoning is a Galileo loudspeaker management system with two Galileo 616 processors.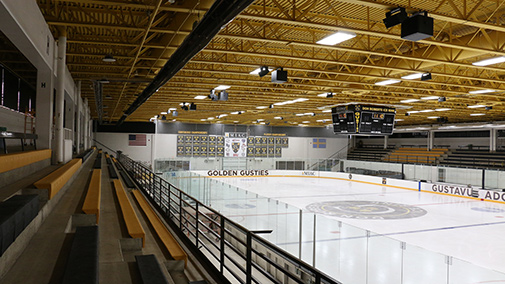 ETC: Celebrates Award-Winning LDI Tradeshow
LDI 2014 was a very successful tradeshow for ETC. The company's gravity-defying booths were visited by record numbers of visitors, a lot of buzz surrounded its debuting products, and ETC walked away with several awards.
ETC's Nomad dongle earned a PLASA Members Choice Award in the Gadget category. The device plugs into a user's computer allowing it to program and run lighting shows using Cobalt or Eos/Element software. The Source Four LED Series 2 Lustr luminaire picked up an LDI Best Debuting Product Award. The judges called it a game-changer, and commended the luminaire's unique mix of LED emitters and its brightness. ETC also got a special mention during the LDI awards ceremony for the color control in all Eos-family lighting consoles. The judges explained that ETC has focused on the needs of designers with its commitment to the development of solutions for real problems in the industry.
ETC showed a lot of new products at the show including Vortek rigging products, GDS architectural luminaires, the Unison Echo architectural system, the ColorSource PAR LED luminaire, the Nomad dongle and Nomad Puck mini-computer, and Source Four LED Series 2 Daylight HD and Tungsten HD luminaires. The staff was busy from the opening minutes of LDI until the show ended, giving demonstration after demonstration of the equipment.
The company's booths themselves also drew in visitors. Designed by ETC Scenic Artist Kate Foster, ETC CEO Fred Foster, and event architecture firm satis&fy, and built by ETC employees, the booths featured an "upside-down world" with a stage scene hung from the ceiling. A pair of twirling dancers and floating ribbons glided above the heads of ETC employees and guests, and a wall of tiles served as puzzle pieces, moving around to create ETC's logo and unveil its show theme, "Innovating Creativity." Eight different control sequences from ETC Rigging equipment automated the sculptures, with the lighting design programmed to match each sequence. An ETC Foundation rigging controller sent OSC commands to a Nomad Puck mini-computer to trigger the lighting. A video of the automation can be found at youtu.be/Yag4fuoidnE.
To learn more about ETC and its products, visit www.etcconnect.com.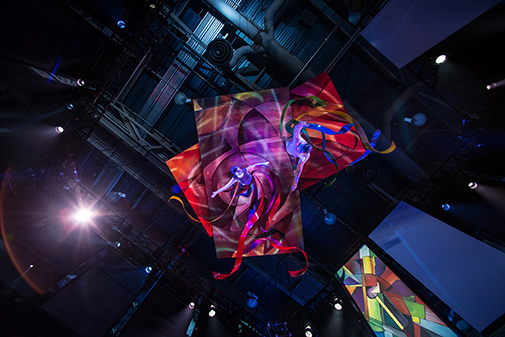 Rose Brand: Brooklyn High School Wins Custom Main Stage Curtain in Video Contest.
Brooklyn Theatre Arts High School won the new, custom main stage curtain valued at up to $10,000 in the Rose Brand "Rags To Riches" video contest. The contest invited any organization with a stage to send in a creative video expressing the need for a new main stage curtain. Videos were judged by Rose Brand managers on the basis of creativity, entertainment value, demonstration of organizational need, and the number of "likes" received across Rose Brand's Pinterest and Vimeo sites. The winning video, described the Brooklyn high school's need in playful visuals and lyrics that were sung to the tune of "My Favorite Things" from the 1965 film The Sound of Music.
Rose Brand Executive Vice President Josh Jacobstein said, "We received a number of videos that were wonderfully entertaining, and many organizations deserve recognition for their terrific efforts. However, the Brooklyn Theatre Arts High School brought a smile to everyone's face. Our employees loved it."
At the outset of the program, Rose Brand created its own playful video to generate contest entries.
All video entries can be viewed on either Pinterest or Vimeo.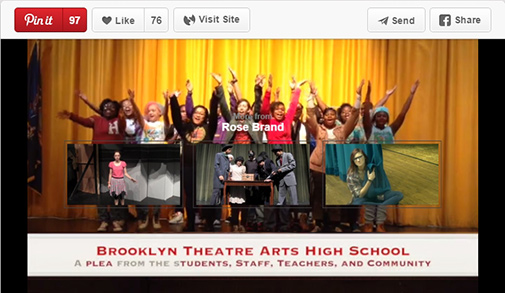 Daktronics: Interactive Features Highlight Integration at LDI Show
Visitors to the LDI Show in Las Vegas, Nevada experienced a new level of integration with live video, graphics, animations and audio from Daktronics.
Attendees checked out the integration capabilities by pressing a red button and seeing what happens next. Everything in the booth is available from Daktronics including the video displays and freeform video elements, animations and graphics creation, audio equipment, and control systems.
A module showcase featured Daktronics products including 4 millimeter SMD, 6 millimeter SMD, 8 millimeter SMD, 10 millimeter SMD, 15 millimeter SMD, 13HD and 16 millimeter outdoor modules.
Full displays featured in the booth included 4 millimeter SMD display measuring roughly 10 feet high by 17 feet wide; 6 millimeter SMD podium consisting of quarter-modules measuring roughly four feet high by three feet wide; 6 millimeter display with varying LED types for comparison purposes measuring roughly 6 feet tall by 2.5 feet wide; 50 millimeter freeform stick elements; and new 2 module by 2 module and 3 module by 2 module transportable panels.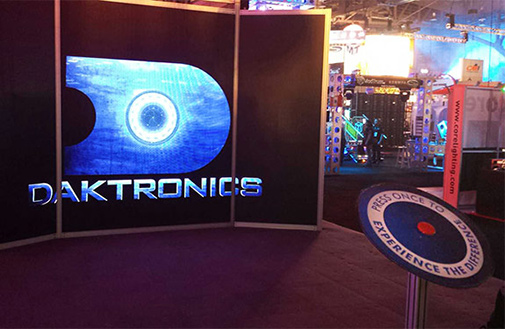 Stage Technologies: Helps Automate Made in Dagenham
Based on a true story as well as the 2010 film of the same name, Made in Dagenham is a new musical comedy at London's Adelphi Theatre about the equal pay strike by the women who made car seats at the London suburb's Ford factory in 1968.
The show stars Gemma Arterton as Rita O'Grady - factory machinist, wife, and mother who, with her colleagues, finds out that their pay has been downgraded to unskilled, and who therefore decides to stage a walk out. The action unfolds against a lively soundtrack of 1960s-inspired song and dance numbers and brightly coloured sets. To automate the latter, Production Manager Matt Towell selected Stage Technologies to supply a 39-axis overhead, stage level, and sub-stage automation control system; and sister company Delstar Engineering to provide fabricated steelwork, tracks, and engineering.
Stage Technologies' BigTow Classic, BT2-200 and BT2-390 winches as well as motors and hydraulics automate the 39 axes. Seven AU:tour 6 cabinets are stationed in the Adelphi's basement to power the system, and it is controlled by the show's automation team using an Acrobat•G6 desk situated in a perch on downstage right. Four BT2-200 winches in truss provide a performer flying gag.
Much of the show's action takes place on the Ford factory floor. Delstar Engineering fabricated two car seat rails - one sloped and one level - which circulate in the background of this set; these are powered by a Stage Technologies motor and gear box.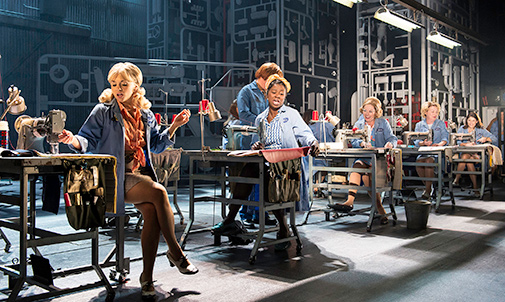 PRG: Entertainment Production Experts Realize Must-See Tour
Hero Ventures, a Los Angeles-based entertainment company, will use that technical elements for The Marvel Experience, an epic-scale, immersive adventure experience in which guests step into and interact with the world of Marvel's Super Heroes and Super Villains, from entertainment event technology and service provider, Production Resource Group (PRG).
"The Marvel Experience has evolved into an amazing, premier touring experience, complete with unique technical elements such as 3D 360-degree video projection, first-person 'live' interactive gaming and a dynamic 4D motion ride.
The team will handle all the coordination and supervision of the design and construction for the project. While The Marvel Experience's technical requirements pose a unique set of challenges, PRG's global reputation has been built on its ability to bring innovative solutions to a wide range of projects including Broadway's groundbreaking Spider-Man: Turn Off the Dark, Olympic opening and closing ceremonies, key elements of Universal Studios' Harry Potter attraction, Super Bowl halftime shows, and global concert tours.
The Marvel Experience landed in Phoenix, Arizona on December 19 and runs through January 3 before moving on to Dallas, San Diego, and San Francisco with more cities to be announced shortly.