News & Notices
LiNK Weekend to Return in 2015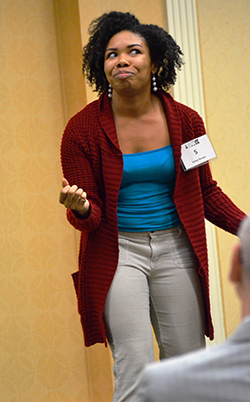 Positive feedback from participants in LiNK has ensured that the first theatre grad school recruitment event in Atlanta, Georgia November 14 and 15 won't be the last. LiNK brought 80 students and 48 schools together for two days of theatre grad school auditions and interviews.
"We heard from student participants that LiNK was literally life-changing," said SETC Executive Director Betsey Horth.
"LiNK was even more successful than we thought it would be, so we'll definitely do it again, hopefully even bigger next year," USITT Executive Director David Grindle said.
USITT and SETC partnered to organize LiNK as a low-cost opportunity for theatre graduate school programs and potential students to connect early in the school year's recruiting cycle. LiNK was held at the Atlanta Airport Hilton with Platinum sponsor Focal Press.
Aspiring theatre grad students were able to meet and interview with representatives from four dozen colleges, universities, and conservatories for only $40, which included a Friday night LiNK soiree for informal networking. Theatre schools from across the country had access to a dedicated pool of candidates for their advanced degree programs for a $125 fee.
USITT and SETC said providing an easily-accessible opportunity for grad school interviews and auditions at LiNK helps create an affordable and convenient way to promote diversity in theatre programs.
"Some of the students at LiNK saw as many as 18 to 25 schools each, and many said they appreciated the relaxed, fun, non-competitive atmosphere," said Christine Troscher, USITT's training coordinator, who helped plan the event.
USITT and SETC agreed, based on this year's turnout, they will need more rooms at the Hilton and may extend the Friday-Saturday event to include Sunday for more callback auditions and interviews time next year.
LiNK 2015 is in the planning stages for November. "Focal Press was happy to sponsor the inaugural LiNK event, and we are in discussions for future collaboration," Mr. Grindle said.
Stay tuned to www.usitt.org and www.setc.org for more LiNK info.