News & Notices
Schreiber Named 2015 Distinguished Achiever in Technical Production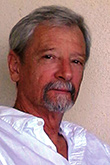 Automation wizard and technical director Loren Schreiber, the brains behind the San Diego Theatre Arts Research Laboratory (STAR Lab), will receive USITT's 2015 Distinguished Achievement Award in Technical Production.
Mr. Schreiber's credits include being the original technical director for Stephen Sondheim's Into the Woods (1986) and Neil Simon's Rumors (1988) at the Old Globe Theatre in San Diego.
In his 20 years teaching at San Diego State University, he has invented dozens of award-winning automation solutions and pioneered PC-based automation controls. He's also an amateur stunt pilot, cattle rustler, and co-founder of the Long Reach Long Riders (LRLR) charity motorcycle club.
Technical Production Commissioner Verda Beth Martell described him as "the cowboy-looking guy in the Hawaiian shirt selling patches for LRLR."
"It can be easy to get caught up in his cool and easy demeanor and forget that he is one of the greatest technical theatre researchers of our time," she wrote in her nomination.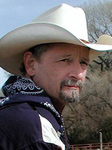 Mr. Schreiber grew up in California, spent time in Africa for his dad's job, and discovered theatre on his return to the states.
"I was 17, in a new school (in Louisiana), and very shy," he said. "I had a crush on a girl in my homeroom who was interested in theatre." To impress her, "I checked out Uta Hagen's Respect for Acting from the school library and left it sitting casually on my desk." The girl noticed and invited him to join a theatre group. "Nothing ever came of my crush, except after 45 years I'm still in theatre," he said.
Instead of acting, he learned to build scenery. After a stint in the Navy, he worked in the scene shop at Louisiana State University, earning a BA in German literature and an MA in theatre history. "Since those degrees are incredibly marketable (NOT!), I headed to California to earn an MFA in scene design."
He worked part-time as a scenic carpenter for the Old Globe and soon switched to technical theatre. Asked what led him to automation, he tells this story:
"The production manager, the assistant TD, and I were crouching behind a large faux tree on the outdoor stage of As You Like It at the Old Globe, waiting for our cue to push. The winch that originally moved the tree sat in a spaghetti of wire and cable after the stagehand who ran the winch was startled by a spider 'as big as a house cat!' and sent the tree in the wrong direction. It nearly fell off the back of the stage and into the San Diego Zoo. As I sat there, clearly visible to the audience, I thought, 'There has to be a better way!' I began designing and building electro-mechanical controls (relays, switches, etc.) that would take the stagehand out of the control system. I wanted a Big Green Button that, when pressed, would do everything a light board could do, only for making scenery move."
He is known for experimentation – including forging ahead through failures – to design special effects and automation machinery for theatre. He said his greatest challenge was Douglas W. Schmidt's scene design for the 1993 revival of Damn Yankees at the Globe.
"There were six winch deck tracks; four actor lifts; nine trapdoors and pop-ups; 36 pneumatic effects; one hydraulic turtle mechanism; and a host of flying elements all controlled by a system designed and scratch-built by little ol' me," he said. "The only thing it didn't have was an Emergency Stop button."
There's more to that story, one of many he will share in his award session at the Cincinnati 2015 Conference & Stage Expo. Meanwhile, as Ms. Martell wrote, "His work makes us all better."