News & Notices
Alliance Launches Green College Contest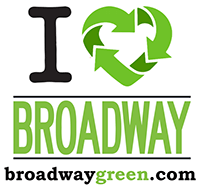 March 1 is the deadline to apply for the inaugural Broadway Green Alliance College Green Captain prize. The winner will be announced and posters of finalists will be displayed at the USITT Annual Conference & Stage Expo in Cincinnati, Ohio in March. 
The winner will receive a pair of tickets to the Broadway or touring production of either Wicked or The Lion King, along with a professional backstage tour of the production and a meeting with a current Broadway Green Captain, subject to availability. (Past Broadway Green Captains have included: Bryan Cranston, Alan Cumming, Blythe Danner and Audra McDonald.)
The BGA contest honors and rewards College Green Captains for creating greener productions on college campuses. Winners will have brought innovative, creative, or widely-applied greening and energy-efficient methods into the design or production of theatre at their campus.
To apply for the prize, College Green Captains should submit a one-page summary explaining their work to make greener theatre. They must also submit a pdf of an 18-by-24 inch cardboard poster that showcases the best elements of their greening program. Additional materials can include a three to five minute video or up to 10 pages of written reports or spreadsheets documenting the greening. Photographs with captions explaining the program are encouraged.
Entries, including large files, can be sent to green@broadwaygreen.com. Any student or faculty/staff member interested in the contest and trying to make their theatre greener is encouraged to volunteer to be a College Green Captain, and sign up at www.broadwaygreen.com/college-green-captains. All prize applicants must be College Green Captains.
More information can be found at BroadwayGreen.com. Current or prospective College Green Captains can join the conversation on Twitter @CollegeGCs or on Facebook.
The winner will be selected by a panel of judges which includes Associate Professor of Theatre Technology at Indiana University and co-chair of the BGA Education Committee Paul Brunner; BGA Co-chair and Executive Vice President of Clark Transfer Charlie Deull; Assistant Professor of Sustainability and Design for Theatre at York University Ian Garrett; NRDC Senior Scientist Allen Hershkowitz, PhD.; and Tony Award-winning set designer, Donyale Werle (Peter and the Starcatcher; Bloody Bloody Andrew Jackson).